Kurds thwart new jihadist bid to cut off Syria town
Oct 19, 2014 09:13 PM IST
Kurdish forces in the Syrian town of Kobane repulsed a new attempt by Islamic State fighters to cut off the border with Turkey Saturday as troops battled the jihadists in neighbouring Iraq.
Kurdish forces in the Syrian town of Kobane repulsed a new attempt by Islamic State fighters to cut off the border with Turkey Saturday as troops battled the jihadists in neighbouring Iraq.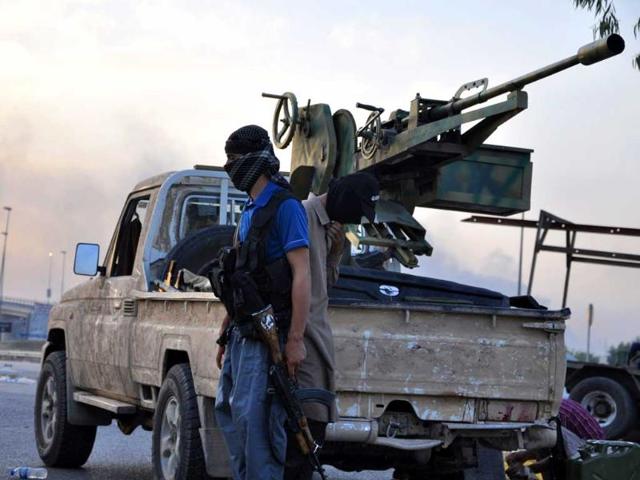 It came as the US military said it had unleashed 25 more air strikes in Syria and Iraq since Friday, hitting Islamic State (IS) jihadists and oil infrastructure they control.
But while Washington said it saw "encouraging" signs, it warned the raids might not prevent the fall of Kobane, and its priority remained the campaign against IS in Iraq.
Despite a wave of coalition air strikes in recent weeks, Iraqi forces are struggling to regain and hold ground from jihadists.
As fighting raged, Iraqi MPs finally agreed on the choices of defence and interior ministers to spearhead the pushback, in a moved welcomed as a "very positive step forward" by US Secretary of State John Kerry.
Heavy IS mortar fire hit the Syrian side of the border crossing with Turkey which is the Kurdish fighters' sole avenue for resupply and the only escape route for remaining civilians, Kurdish official Idris Nassen told AFP.
At least three rounds crashed onto Turkey's side of the border, one of them near a hill where the Turkish army is deployed, an AFP correspondent at the scene said.
The jihadists launched a fierce attack from the east towards the border gate before being pushed back, Nassen said.
IS suffered heavy losses in the fighting and was forced to send in reinforcements, the Syrian Observatory for Human Rights said.
The jihadists lost 21 of their people to air strikes and another 14 in ground fighting on Friday, the Britain-based monitoring group said. The Kurds lost three of their fighters.
UN Syria envoy Staffan de Mistura warned earlier this month that about 12,000 civilians remained in and around Kobane and risked "massacre" if the jihadists cut off the border.
Overnight coalition air strikes on IS targets elsewhere in Syria killed 10 civilians, the said the Observatory, which has a wide network of sources inside the country.

'Iraq our main effort'

Of 15 air strikes in Syria since Friday, 12 were aimed at "degrading and destroying their oil producing, collecting, storage and transportation infrastructure," the US Central Command said.
Three other strikes in Syria hit two IS fighting positions near Kobane and a military camp in mainly jihadist-held Raqa province.
The US commander overseeing the air war hailed "encouraging" signs in the defence of Kobane, but said the town could still fall and that Iraq remained the coalition's priority.
"Iraq is our main effort and it has to be, and the things that we're doing right now in Syria are being done primarily to shape the conditions in Iraq," said General Lloyd Austin.
In Baghdad, MPs on Saturday approved defence and interior ministers after weeks of delay.
Khaled al-Obaidi, a Sunni who was named defence minister, was a senior officer in the air force of ousted dictator Saddam Hussein.
Gaining some level of support from Iraq's Sunni Arab minority -- many members of which are deeply mistrustful of the Shiite-led government and view the armed forces as an instrument of repression -- will be key to pushing IS back.
The American secretary of state congratulated Iraq's Prime Minister Haidar al-Abadi.
"We had a very positive step forward in Iraq today," said Kerry. "These were critical positions to be filled, in order to assist with organising the effort" against the IS.
On Saturday, Spain announced it would begin training Iraqi forces later this year to battle Islamic State fighters.
Defence Minister Pedro Morenes made the announcement in Washington, where he has been meeting senior US officials.
Iraqi government troops are battling IS on two fronts -- in the Anbar provincial capital of Ramadi, west of Baghdad, and near Tikrit, Saddam's hometown.
Ramadi is in a shrinking patch of territory in the predominantly Sunni Arab province where forces loyal to the Shiite-led government still hold ground, and its loss would be a major blow for Baghdad.
On Friday and Saturday, 10 air strikes targeted IS in Iraq, including five near the strategic Mosul Dam, north of Baghdad, the US military said.

But security in the capital also remains a problem with bombings killing nearly 50 people in the past two days alone.
The UN Security Council on Friday unanimously called for increased support for the Baghdad government in the face of the "vicious string of suicide, vehicle-borne and other attacks" in the capital.
The IS jihadists have committed a wave of atrocities including massacres of ethnic minority civilians and captured soldiers, and beheadings of Western aid workers and journalists.
In Syria's northern province of Aleppo, IS jihadists on Thursday executed a man they accused of filming their headquarters, and displayed his body on a cross, the Observatory said.
Meanwhile, two IS fighters, one just 15, were executed after being captured near Kobane by Arab allies of its Kurdish defenders, the monitoring group said.