Pro-Russian gunmen seize Crimean seat of power in Ukraine
Feb 27, 2014 02:27 PM IST
Dozens of pro-Russian gunmen in combat fatigues seized parliament and government buildings on Ukraine's volatile Crimea peninsula Thursday as lawmakers in Kiev prepared to approve a pro-Western cabinet for the divided ex-Soviet state.
Dozens of pro-Russian gunmen in combat fatigues seized parliament and government buildings on Ukraine's volatile Crimea peninsula Thursday as lawmakers in Kiev prepared to approve a pro-Western cabinet for the divided ex-Soviet state.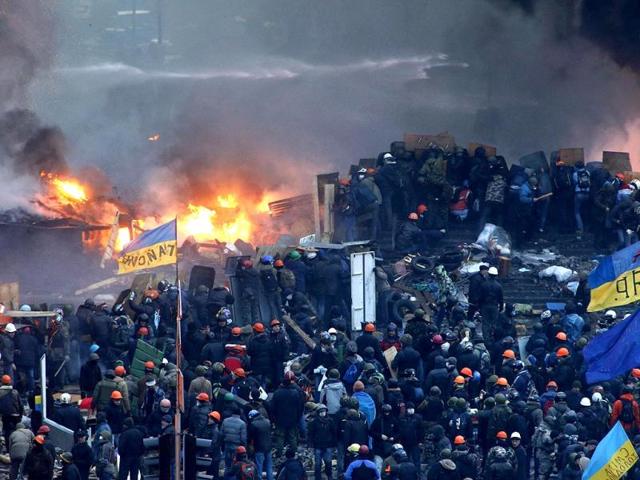 The dawn raid came a day after Russian President Vladimir Putin ordered snap combat readiness drills near the Ukrainian border, which raised fears of the Kremlin using its military muscle to sway the outcome of a three-month crisis that has pitted Moscow against against the West in a Cold War-style confrontation over the future of the strategic nation of 46 million.
Stay tuned with breaking news on HT Channel on Facebook.
Join Now
The United States had late on Wednesday promised to secure a $1 billion loan guarantee that may be backed by an additional $1.5 billion from the European Union aimed at saving Ukraine's teetering economy from a devastating debt default as early as next week.
The country's new rulers have said they need $35 billion for the economically distressed country.
Ukraine's bloodiest crisis since independence in 1991 erupted in November when Viktor Yanukovych -- deposed as president last weekend -- made the shock decision to ditch an historic EU trade deal in favour of closer ties with old master Russia, a move that won him a promise of $15 billion from MOscow.
But Ukraine appeared to take a decisive swing back toward the European Union by ousting Yanukovych's entire pro-Russian team and replacing them with a new brand of younger pro-Western politicians who will steer the nation -- torn between a Russified east and pro-European west -- until snap presidential polls are held on May 25.
A new team headed by 39-year-old caretaker prime minister Arseniy Yatsenyuk -- a close ally of the freed opposition icon Yulia Tymoshenko -- was unveiled to an emotional crowd of 25,000 late on Wednesday on the same barricade-riven central Kiev square that had been the epicentre of the revolt against Yanukovych's pro-Russian rule.
Lawmakers in Ukraine's Verkhovna Rada single-chamber parliament were due later Thursday to overwhelmingly confirm the new cabinet, after Yanukovych supporters abandoned his Regions Party and joined the pro-EU opposition.

Russian flag flies in Crimea
The Russian flag flew Thursday morning over both the the Crimean parliament and government buildings in the regional capital of Simferopol.
The Black Sea autonomous region's prime minister Anatoliy Mohilyov confirmed to AFP that up to 50 men with weapons seized the buildings and were preventing government workers from entering them early on Thursday.
Mohilyov said that he tried to enter the Crimean government building to conduct negotiations but was turned away by the gunmen.
"The gunmen who had seized the buildings said that they were not authorised to lead negotiations," Mohilyov said in an official statement.
Simferopol was rocked Wednesday by opposing rallies involving thousands of people that degenerated into fistfights and saw one elderly man die of a heart attack.
Ukraine's interim interior minister Arsen Avakov said that interior ministry troops and the entire police force had been put on heightened alert following the Thursday raid.
"In order to prevent bloodshed among civilians, the neighbourhood around Crimea's Verkhovna Rada (parliament) has been cordoned off," Avakov wrote on his Facebook account.
Avakov added that the region's security forces were taking other unspecified measures "to prevent the development of extremist actions, and avoiding an armed confrontation in the city centre."
AFP correspondents in Simferopol said about 20 police officers were carefully moving a crowd of a few hundred mostly pro-Russian onlookers away from the direct vicinity of the seized buildings.
"We now hope that the (Ukrainian) nationalists in Kiev do not come here," said a Sergei Vladimirovich, a Russian-speaking pensioner.
"The situation in Kiev in unconstitutional. What is happening here is an adequate response to the coup that was staged there."

Western rescue
Ukraine's new leaders are increasingly facing the spectre of separatism from eastern and southern mostly-industrial regions of the country whose cultural and linguistic ties to Moscow trace back centuries and whose trade depends heavily on Russia.
Russian-speaking Crimea -- home to the Kremlin's Black Sea fleet for 250 years -- was handed to the Ukrainian Soviet Socialist Republic in 1954 as a symbolic gift, the explosive significance of which became apparent only after the USSR's collapse.
But the new leadership in Kiev seemed to have been handed a double reprieve Wednesday when the Crimean parliament cancelled a secession vote and US Secretary of State John Kerry promised the quick delivery of financial aid.
Kerry said Washington was "formulating initially a $1 billion loan guarantee with some other pieces" to follow.
He added the European Union was looking at loan guarantees worth some $1.5 billion.
Ukraine is suffering badly from Moscow's decision to freeze the bailout package Putin promised to Yanukovych after delivering only a $3 billion tranche in December that had long been used up.
Kiev has requested as much as $35 billion in Western help and owes $13 billion in state debt payments this year -- a massive sum in a country where state reserves are less than $18 billion.
Concerns over what would be a catastrophic default by Ukraine saw the local currency sink four percent to a record low against the dollar on Wednesday.

Where is Yanukovych?
The deposed Yanukovych -- wanted for "mass murder" -- is widely believed to have gone into hiding in Crimea with his two sons and a small team of heavily armed guards.
The new interim prosecutor general insisted the fugitive ex-leader was still in Ukraine while also requesting an international arrest warrant for both him and ousted interior minister Vitaliy Zakharchenko -- a hate figure among protesters for ordering the deadly use of force.
There was further confusion when Putin's spokesman was forced to say he had no information regarding a private Russian TV report claiming Yanukovych was hiding out in a government health resort near Moscow.