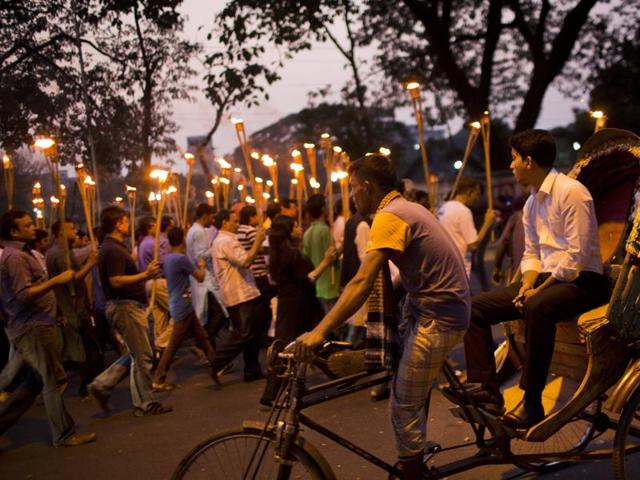 Rights groups seek US sanctuary for threatened Bangladeshi writers
Human rights groups on Monday urged the US to offer emergency sanctuary to Bangladeshi writers targeted by Islamic extremists for their secular beliefs.
PUBLISHED ON DEC 22, 2015 09:55 AM IST
Human rights groups on Monday urged the US to offer emergency sanctuary to Bangladeshi writers targeted by Islamic extremists for their secular beliefs, following a wave of killings that have fuelled concern over rising radicalism in the south Asian nation.
A coalition of rights organisations, led by the PEN American Center, made the appeal in a letter to the secretary of state John Kerry. They warned that a group of writers, bloggers and publishers are in "urgent danger". Four bloggers and a publisher have been killed this year and dozens more have been publicly threatened.
Bangladesh is a Muslim country with traditions of secularism and tolerance. But a December 8 report on violent extremism prepared for the US Agency for International Development and obtained by The Associated Press says that since 2013 "there seems to be greater acceptance of the militant groups" within Bangladesh.
The report by Management Systems International, a US-based international development firm, says conservative and less tolerant interpretations of Islam appear to be gaining ground. The report is also critical of the Bangladeshi government's approach to counterterrorism in a politically charged atmosphere.
The letter from the rights groups says that the Bangladeshi government has not provided adequate protection for bloggers, and in some cases has urged them to self-censor or leave the country. Some secular bloggers have been arrested on charges of insulting religious sentiments.
The letter called the situation "extremely dangerous" and urged "humanitarian parole" for the bloggers to prevent their deaths. Seven organisations signed the letter, including Human Rights Watch and Freedom House.
Humanitarian parole is used sparingly to bring a person into the United States for a temporary period of time due to a compelling emergency, according to the US Citizenship and Immigrations Services.
The five individuals killed between February and October were among those named on "hit lists" published by Islamist groups that have claimed responsibility for the attacks, the letter said. Other individuals on the lists have contacted the rights organisations or have received death threats by mobile phone or social media, it says.
The first of the five fatalities this year was Bangladeshi-American writer Avijit Roy, a prominent critic of religious extremism, who was attacked in a crowded street in the capital Dhaka on February 26 by men wielding machetes as he and his wife were leaving a book fair. His wife survived the attack with serious injuries.
The report warns that a new generation of Bangladeshi militants is "well-educated, tech-savvy" and comes from upper middle class families. It says it is unclear if the militants act on their own or as part of a centralised initiative originating with the Islamic State group or al Qaeda in the Indian subcontinent.
Between September 4 and November 30, 2015, there were 14 attacks allegedly carried out by individuals or groups that claim to be followers of the Islamic State group, including the murder of two foreigners and unprecedented attacks on minority Shia Muslims, according to the report. Most Bangladeshis are Sunni Muslims.
The government of Prime Minister Sheikh Hasina denies that IS has a presence in Bangladesh. It accuses domestic Islamist groups along with the main opposition Bangladesh Nationalist Party and its main ally, the Jamaat-e-Islami party, of carrying out the attacks to destabilise the nation for political gains.
Bangladesh has been in political ferment since the run-up to January 2014 elections that were boycotted by opposition parties, and over war crimes prosecutions brought against Jamaat-e-Islami leaders over alleged involvement in atrocities during Bangladesh's 1971 war of independence.
The report says that the marginalisation of political parties, including religion-based ones, may have contributed to the growth of violent extremism.
"It is important to note that the ruling party's position has shifted from openly embracing 'atheist bloggers' to maintaining a safe distance from them, to being critical of them, to warning them of consequences," the report says.
Close