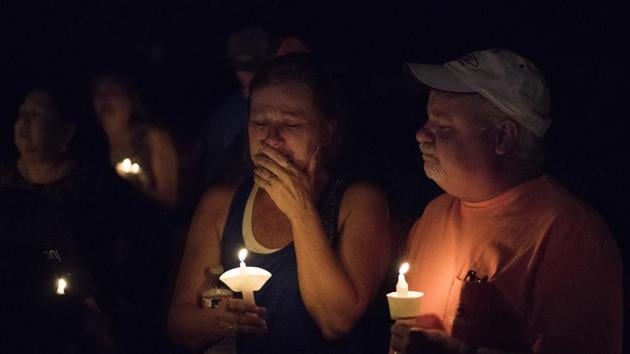 13,149 have fallen to gun violence in US this year, calling it just 'act of evil' will not help
A man dressed in black tactical-style gear and armed with an assault rifle opened fire inside a church in a small South Texas community, killing 26 people and wounding about 20 others.
UPDATED ON NOV 06, 2017 01:18 PM IST
No matter how much President Donald Trump may rail on Twitter after each terror attack in the US, Americans are nearly 2,000 times more likely to be killed by a fellow citizen carrying a gun than a terrorist.
The sheer statistics are mind numbing – 52,385 incidents of gun violence with 13,149 fatalities so far this year, according to the Gun Violence Archive. A total of 307 mass shootings (defined by the Gun Violence Archive as incidents in which four or more people have been shot or killed, excluding the shooter).
And two of the five deadliest mass shootings since 1949 have happened in the past 35 days – in other words, on President Trump's watch. They were the attack on a music festival in Las Vegas by Stephen Paddock that left 58 dead on October 1 and the shooting in a Texas church by Devin Kelley that left 26 dead (28 according to some reports) on November 5.
Since the 9/11 attacks, a total of 103 people have been killed by jihadi terrorists in the US. That's less than 1% of the total number of people killed by gun violence in each year since 2014.
And yet, the US does very little to control gun ownership and the sale of firearms.
Stephen Paddock, the shooter in Las Vegas whose motive is yet to be determined, bought 33 guns in the 12 months before he targeted concert-goers. Most of the purchases were rifles, and gun stores aren't even required to report multiple rifle purchases to the Bureau of Alcohol, Tobacco, Firearms and Explosives.
A dozen of his weapons were fitted with "bump stocks", which allow semi-automatic weapons to fire like fully automatic ones. Again, it is completely legal to sell devices such as bump stocks in the US, which effectively means regulations controlling the sale and ownership of fully automatic weapons have little impact.
Texas, the location of the latest deadly mass shooting, allows its residents to openly carry assault rifles such as the AR-15, a favourite with many of the shooters involved in gun violence.
The right of Americans to bear arms is protected under the second amendment to the US Constitution, which was adopted a mere 15 years after the country became independent in 1776. The amendment states: "A well regulated Militia, being necessary to the security of a free State, the right of the people to keep and bear Arms, shall not be infringed."
Clearly, US lawmakers of the era were thinking of the possibility of the need to organise themselves in the event of renewed conflict with the British, from whom they had gained independence, or other oppressors.
It hasn't helped that the powerful National Rifle Association (NRA) has ensured that very little can be done to change this right to bear arms. Republicans, including Trump, have always been reluctant to go against groups such as the NRA, which can influence the outcome of elections.
As with past mass shootings, there will be some reflection and debate on the need to change US gun laws after the Texas church shooting.
But as long as leaders such as Trump are content to just call it an "act of evil" without any mention of the need for a radical change, the spree of mass shootings in the US is unlikely to end anytime soon.
Close