Anna Hazare need not feel sorry that Kejriwal has 'changed'
Published on Sep 10, 2016 09:16 PM IST
Kejriwal did not share Hazare's near-rejection of parliamentary democracy. He could not reconcile himself to the posture that the movement was superior to parliament when it came to law-making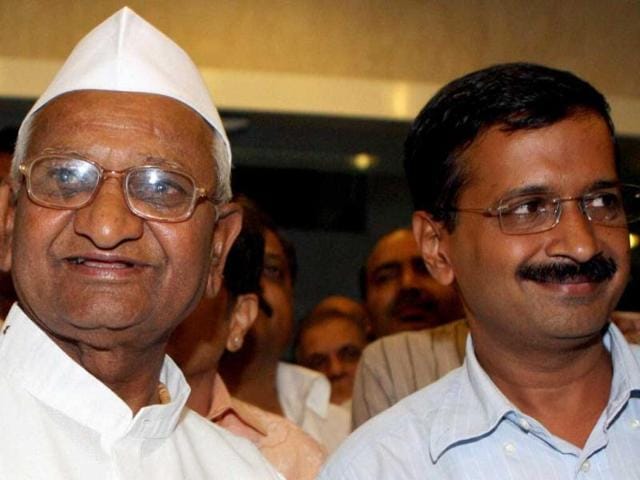 Social activist Anna Hazare's disillusionment with Delhi chief minister Arvind Kejriwal, who was once his follower, should be interpreted more in terms of what he didn't say than read on the surface. He said he had a lot of hope from Kejriwal, and in doing so he was referring to those days when they both participated in the movement against corruption. Hazare's current lament is probably on account of the alleged misdemeanours of the minister just dismissed for his alleged sexual misconduct, and Kejriwal's apparent inability to keep a check on who was being admitted to his party. If he is saying just that, Hazare is taking a narrow view of the scene. But if he's talking about the time of his falling out with Kejriwal because of the latter's decision to form a political party and contest elections, and that partly put the purpose of the anti-corruption movement into reverse, Hazare has much to answer for himself.
Read: Kejriwal, AAP betrayed people's expectations: Anna Hazare
Hazare's view is that a movement that's kept perpetually alive provides stronger ballast to society than a party. This is the thinking of the high-minded. To this, however, Hazare appended something trite and grandfatherly: People are attracted to a party for the power it provides and hence corrupting influences are there.
This is why he is still advising Kejriwal to give up power.
What Hazare had led was more social than political. And movements with an anti-corruption content have a memory to them. When a language is corrupted, it's implied it was once pristine. A CD does not die; it gets corrupted after it has run its course. The same holds good for society. To remove the blot of corruption, which had accumulated through years of misrule, Hazare sat below Gandhi's bust in a meditative posture with his eyes closed, arousing people's yearning for an age that's long gone and yet could be brought back. Though he had a specific issue such as the enactment of the Jan Lokpal Bill, he grew around himself layers of thinking and emotions, and hence 'India Against Corruption' could acquire a countrywide reach in a matter of days, something that had not been seen before. In this it was helped no doubt by television and the social media. Hazare was a man with a mission and who could carry his mission forward if not the doughty Kejriwal!
Read: AAP govt facing hurdles as it does not have any 'setting', says Kejriwal
Then why did Kejriwal leave Hazare? Though he has not given an answer to this, a fair surmise could be made. Kejriwal has grown up in an environment far removed from the idyllic world seen through Hazare's eyes. It was a universe that comprised essentially honest and yet conservative human beings. In such an idyllic environment religion could be easily intertwined and that is precisely the reason the RSS supported the movement. To my mind it was the principal factor — these contrasting world views — in the movement coming apart. Hazare, perhaps in his innocence, could not capture the import of taking support from the RSS. Kejriwal did and chose for himself another path, maybe out of compulsion. So did some others who latched on to Kejriwal. Some couldn't and the usual hustle-bustle of politics took over.
Kejriwal did not share Hazare's near-rejection of parliamentary democracy. His being in the higher echelons of government service could not allow him that space. He could not reconcile himself to the posture that the movement was superior to parliament when it came to law-making. We all know, and Kejriwal too does, that there is corruption in politics. But from that premise to say that politicians are all thieves, and Hazare said that, is a quantum leap that Kejriwal could not have taken.
Read: Hazare to set up 'gramrakshak dal' to end illegal liquor business
Therefore, the balance of choice lay more with Kejriwal than Hazare. The movement that had generated millenarian hopes has all but tapered off and this is not just because of Kejriwal deserting ship. Hazare must now be a lonely man and his belief that he can still show Kejriwal the right path betrays his loneliness.
Hazare need not rue the fact that he is seeing in Kejriwal a changed person. Part of his message will always hold good. In consonance with that, his stance that his morality be given primacy over the people's will in Parliament will have a place in the public mind and find expression from time to time. Men like Hazare appear from time to time, play their part and vanish.
Where does this leave Kejriwal? Is he secure in the fact that he has parted ways with Hazare? Such a sense of security may turn out to be illusory for him.
uddalok.bhattacharya@hindustantimes.com
Personalise your news feed. Follow trending topics