India must continue to support Hasina, but should not write off Khaleda Zia
Feb 13, 2018 04:20 PM IST
In Bangladesh, there is a growing perception of misrule by the AL government even though Hasina has done a lot for the economic and infrastructural development of the nation.
On February 8, a special court in Bangladesh sentenced former Prime Minister Khaleda Zia to jail over the embezzlement of $252,000 meant for an orphanage. Her son, Tarique Rahman, the acting head of Bangladesh Nationalist Party (BNP), and four others — a former BNP MP, an ex-principal secretary to the PM, a nephew of Zia and a businessman — have also been convicted in the case.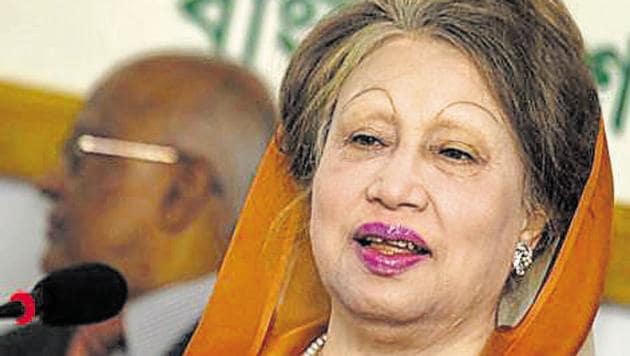 The BNP has alleged that the corruption cases against Khaleda Zia are a political conspiracy by the ruling PM Sheikh Hasina-led Awami League (AL) government. While BNP's supporters may agree with this view, there's little doubt that the Khaleda-Tarique combine headed a corrupt and extortionist government (2002-2006). Tarique and his younger brother (the late Arafat Rahman 'Koko') ran an extortion racket and a parallel government during Khaleda Zia's prime ministership. His business partner was also convicted of extortion and is in jail. Zia's home minister is in jail for arranging arms and ammunition from Pakistan for the Ulfa. Even Saudi Arabia has stated that Zia and her sons have invested billions of dollars in real estate in that country.
During Khaleda Zia's premiership, Bangladesh and Pakistan joined hands to subvert India's interests. Apart from providing support to Indian insurgent groups in the Northeast, several Islamic extremist groups came into prominence, with the support of the Tarique clique and Pakistan. Tarique wanted to use these extremists to target the AL leadership and workers, while Pakistan wanted to use them against India.
In 2004, PM Hasina escaped a grenade attack at a rally in which several AL leaders and workers were killed, including the wife of the former president. Several BNP leaders were convicted for this attack. Tarique is an accused in this case too. Alleging that the conspiracy was hatched in Tarique's house, the prosecution is demanding death penalty.
The BNP boycotted the last election but will not make the same mistake this time even though Khaleda Zia may be debarred from contesting. With Tarique unable to return to lead the party and its electoral ally Jamaat's top leadership executed for war crimes, a weakened BNP may not be able to put up much of a fight in the elections.
India has backed Sheikh Hasina and must continue to do so, given the track record of the Khaleda-Tarique regime. But in Bangladesh, there is a growing perception of misrule by the AL government even though Hasina has done a lot for the economic and infrastructure development of the nation. So India must be prepared to deal with a BNP-Jamaat government in future and hope they would not commit the same mistakes vis-à-vis India once again.
Pinak Ranjan Chakravarty is a distinguished fellow, Observer Research Foundation, and former High Commissioner to Bangladesh (2007-2010)
The views expressed are personal