India should adopt the peasant food web as a sustainable practice
Apr 19, 2018 01:46 PM IST
Establishing enabling food policies is critical to ensure that important experiments don't become innovation fireflies — dying a quick death
Even as India witnesses persistent agricultural distress and farmer protests, there is a food revolution underway across the world. It is a true David (or more accurately, Davids) versus Goliath story, of what is called the peasant food web, taking on the industrial food chain. This revolution isn't happening in any one place, but all across the world. Like most revolutions, it is a fight that is being fuelled by grassroots energy and activism. And this is why it is bound to succeed. In the coming years, India — completely by accident — could be one of the key theatres for this victory.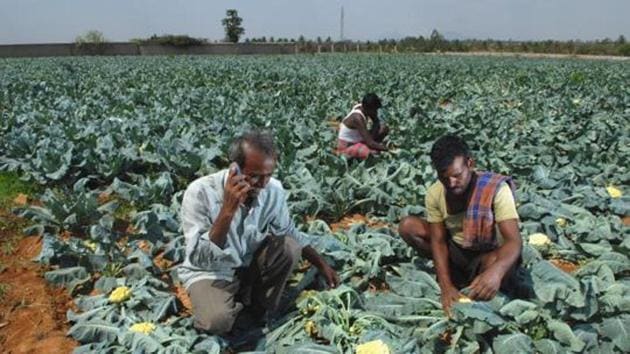 The terms industrial food chain and peasant food web were coined to contrast two competing food systems, in a report titled 'Who will feed us?' published in 2017 by the ETC Group, a research institution working on ecology, technology and economics. The report says the peasant food web is not a pseudonym for agro-ecology, organic farming, permaculture, or any other production system. Were organic farming employed throughout food production, we would be closer to food security but not necessarily closer to food sovereignty.
The industrial food chain (IFC) refers to the various components of the links running from production inputs to consumption outcomes, and includes crop and livestock genomics, pesticides and fertilisers, as well as transportation and processing systems. The chain controls the policy environment of the world's most important resource – our food.
The peasant food web (PFW) is made of small-scale producers, usually family or women-led, that include farmers, livestock-keepers and urban/peri-urban producers. While some peasants do use chemicals for commercial produce, most of what PWF produces is de facto organic.
The statistics about the relative share of these two food systems in feeding the world are quite stunning: The PFW caters to more than 70% of the world's food needs, compared to 30% by the IFC, and yet only consumes 25% of the energy for this, compared to 75% of energy consumed by the IFC. And yet, advocates of the IFC have so far won most of the policy battles, defining government regulations in virtually every country. Our solutions for food systems are tilted towards IFC-based solutions: larger and more commercial farms, more mechanisation, more chemical fertiliser and pesticides, etc. This isn't because those who are advocating for industrial-scale solutions are evil, or morally compromised — rather, many are intensely public-spirited and have been seized by the gigantic challenge of feeding our populations.
But change is coming from two independent streams: first, from the growing awareness of the long-term negative consequences of adopting IFC — such as monoculture (growing only one crop), or the impact of chemical fertilisers and pesticides on the inherent quality of the soil and final produce. Second, from a new force not evident a decade earlier — the steadily increasing sustainable food movement at the grassroots, aimed at providing a viable alternative to feed the world.
The emerging change is being propelled not by unsubstantiated sentimentality, but by scientific evidence. The scientific community which earlier was an ally of the industrial chain system, is now more frequent in its support of the food web as a sustainable practice, with favourable research findings on how the food web approach results in better soil quality, less water usage, and superior food quality.
What are the components of a successful 'food web' approach, and what is needed for the adoption of such an approach? Four key elements may be considered as critical components of this model: no use of chemical fertilisers and pesticides; diversity in seed banks; small landholdings by farmers and growers; and proximity to end consumer markets.
A shift from using unhealthy chemicals as well as genetically modified seeds, requires determined champions to continue their policy advocacy to find the right solutions and political leadership. Establishing enabling food policies is critical to ensure that important experiments don't become innovation fireflies.
The second two components are interlinked to regional land zoning plans, and demand side urban economics. For the model to work, there is a minimum catchment of demand, and a local geographic footprint to the supply. Urban centres are the logical theatres for such models to work. The success of the model depends upon a critical mass of urban consumers who are demanding better quality food, and who will not only sustain the economics of this approach, but also act as a tipping point for more consumer conversion. Combined with adequate demand, minimising the farm to table distance is critical to ensure the economics of the approach.
With adequate incentives, farmers will switch their growing practices, and be able to quickly see the economic gain from doing so. Such a localised food system allows all four components to work together. When there is adequate policy support, this local, 'small is beautiful' food web approach may be able to build a quiet foundation, which grows organically over time to take an increasing share of the food wallet of the urban consumer.
(The second part of this article will appear next week)
Swati Ramanathan is chairperson, Jana Urban Space Foundation, and co-founder, Jana Group.
The views expressed are personal
"Exciting news! Hindustan Times is now on WhatsApp Channels
Subscribe today by clicking the link and stay updated with the latest news!"
Click here!