Our universities can't survive another death of a marginalised student
One year after Rohith Vemula's suicide, universities and student bodies need to think about and act against caste biases on campuses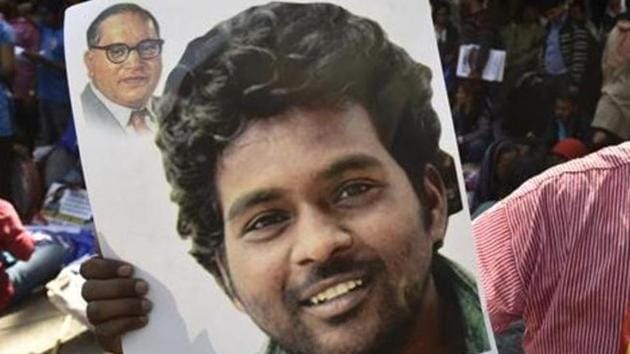 Published on Jan 17, 2017 02:28 PM IST
The university was the most hallowed of all educational institutions – an egalitarian melting pot of cultures, ideas and skills that transformed entrants into young rational, thinking beings committed to truth, equality and justice.
That dream shattered this day last year when PhD student Rohith Vemula killed himself after months of alleged caste-based humiliation at the hands of authorities at the University of Hyderabad and almost criminal apathy from student and teacher bodies, and the world outside.
His death unleashed a wave of fury mixed with inconsolable grief across India. University campuses – considered inviolate spaces cocooned from the rest of the world – were suddenly awash with students protesting against real-world prejudices bent on retaining an old order of Manu.
The rage of the demonstrations might have taken the country by surprise but for countless Dalit, Bahujan and adivasi students, Rohith's death underscored the daily subjugation they face at these supposed just spaces.
Students who avail their constitutional right to reservation are marked for humiliation from Day 1, made to sit separately, called out in class or names marked in red in attendance registers. Many are denied entry into elite "institutions of national importance" that think undoing centuries of caste bias isn't of national importance.
Read: Rohith Vemula : An unfinished portrait
The dominant narrative – built from childhood – that says Dalit Bahujan adivasi students steal legitimate seats belonging to their "meritorious" dominant caste peers is used to pile on shame. Many students drop out, others fail, too scared to go up to hostile upper-caste teachers.
None of this is new. A 2011 report by the Insight foundation showed 18 Dalit students had committed suicide in the preceding four years at some of India's biggest institutions. Bal Mukund Bharti killed himself in 2010 in Delhi's All India Institute of Medical Sciences after years of mocking and hostility – an echo of Chuni Kotal's death in 1992 in West Bengal. The last words of the first female graduate from the Lodha Shabar tribe, who killed herself after years of harassment about her hailing from a "criminal" tribe" are an eye-opener. "A Lodha shouldn't have dreamt of higher studies," were said to be her last words. Rohith's university itself has seen at least six Dalit suicides in the past decade.
But despite the unabated deaths, there has been relatively little attention given to an issue that threatens the fundamental structure of our universities, and nation. No modern democracy can survive the crushing of sections of our population in a manner reminiscent of Vedic punishment suggested for Dalits daring to read books (cutting of tongue, molten lead in ears etc).
Read: Rohith Vemula not a Dalit, belonged to other backward class: Andhra govt
There are three clear remedies. One, recruit more teachers belonging to marginalised communities who will not only provide a nurturing environment but also correct the hopelessly lopsided faculty recruitment practices.
A nationwide higher education survey in 2015 found that SC teachers formed less than 5% of faculty while ST teachers form just over on 1%. These numbers indicate blatant discrimination and a continuation of oppressive practices that made BR Ambedkar exhort that the existence of backward classes wasn't safe without education.
Two, the enactment and implementation of a comprehensive anti-discrimination statute and gradual scrapping of practices that allow for caste bias to seep in through discretion and secrecy. A series of RTI applications have revealed in the past five years that interview and viva-voce marks are often manipulated systematically to keep out Dalit Bahujan adivasi students but university authorities have constantly moved to expand discretionary marking. This must be looked into.
Third, and most importantly, universities and student bodies need to think about and act against caste biases on campuses. Caste isn't brought into education through quotas, it is woven into the fabric of our higher education system through the continual dominance of a handful of groups, the hold of third and fourth-generation learners with well-established parentage and the myth of "merit" which curiously only seems to rest inside the bodies of certain castes and tribes. The university needs to act against the daily surges of humiliation and shame that SC/ST/OBC students are forced to undergo. Denying the demon or ignoring it won't make it go away.
Read: Dadri victim Akhlaq's brother to attend Vemula's death anniversary meet in Hyderabad
The response to Rohith's death by society at large has been shock and outrage but little beyond. Any anti-discrimination demand has been stonewalled and even the so-called civil society – forever ready to take up causes – has been silent beyond think-pieces and the occasional television byte. But our universities cannot survive another death of a marginalised student. The promise of these institutions has already been belied, with untold dreams dashed and bright, young men and women forced out of the very spaces that were meant to nurture them. Any delay in acting against caste on our campuses will only destroy them.
Close Story