Russia-Iran axis will remain on top in Syria despite West's airstrikes
The growing dominance of a Russia-Iran axis in the Levant, the area stretching from Lebanon to Iraq, is unaffected.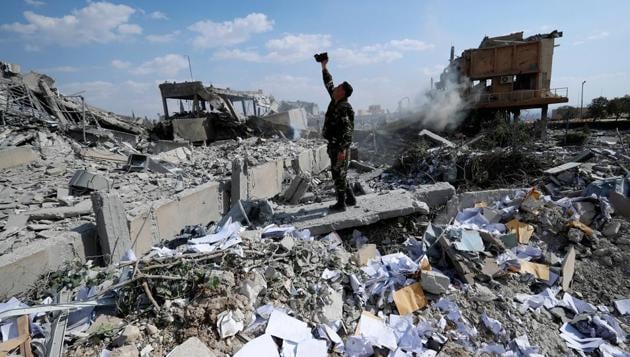 Updated on Apr 15, 2018 08:53 PM IST
Hindustan Times, New Delhi |
Pramit Pal Chaudhuri
The combined US, British and French missile strikes on Syria will inhibit Damascus from using chemical weapons, but will not fundamentally change the geopolitical situation in the Levant.
The growing dominance of a Russia-Iran axis in this area, stretching from Lebanon to Iraq, is unaffected. At best, the strikes will temporarily keep Turkey from drifting closer to Moscow and Tehran.
Syria is a microcosm of a larger regional geopolitical chess game. The three groups which loosely worked together to defeat the Islamic State –the Assad regime backed by Iran and Russia, US-backed Kurds and other Syrian rebels, and Turkey–are now manoeuvring against each other.
At present, the cards are falling in favour of Russia and Iran. Their support has helped save the Bashar al-Assad government of Syria. Assad is now extinguishing rebel enclaves in Syria, one by one. The alleged chemical attack in Ghouta may have triggered the West's missile strikes, but it also led the local rebels to surrender.
The US military presence in this region is limited to 2,000 troops defending a Kurdish area in northern Syria. Turkey has now turned its guns on these Kurds. But Washington is internally torn about its future role. President Donald Trump wants to pull out the American troops. The Washington security establishment wants to stay on to secure ally Israel from Iran, and to generally stand up to Moscow. But without White House support, they are confined to strategising.
Moscow and Tehran are joined at the hip by a desire to eradicate US influence in the region altogether. "There is nothing unnatural, artificial or inherently temporary about the coalition between Russia and Iran," writes Chris Kozak of the Institute of War Studies.
This alliance also extends to Afghanistan and support for the Taliban, a source of some friction with India. However, New Delhi also believes the US's tightening of sanctions against both Russia and Iran have been a cause for this geopolitical bond.
Russia's priority is to achieve a political settlement in Syria, argues Kerim Has of Moscow State University, hence its sponsorship of the Astana process. Iran and Turkey are on board, but Moscow wants to include Kurds and some Syrian rebels.
Russia does not share Iran's antipathy to Israel. It also does not share Turkey's suspicions regarding the Kurds. But all three do agree on keeping the West out of the process.
The missile strikes have led Turkey to rally to the side of its NATO allies. Ankara called the strikes "appropriate." But with the US having no long-term strategy for the Levant, Ankara will probably drift back into an uneasy orbit around Russia and Iran.
The latter two like the idea of weaning Turkey away from the West, but know Ankara and the Assad regime are bitter foes. They warned Ankara against trying to absorb the Syrian Kurdish town of Afrin into Turkey.
The US does not seem to have a policy other than wagging a cruise missile at suspected use of chemical weapons by Syria. Expect the various regional players to just continue where they left off before the strike.
Turkish military analyst Metin Gurcan expects a summer of fighting in northern Syria where the US military line – and Trump's patience – will be tested. Two factors remain uncertain. One, how far France is prepared to go as an external player. Two, what regional military strongman, Israel, has up its sleeve.
Close Story