The Nalanda enterprise rose from a fundamentally false premise
Aug 24, 2015 02:37 PM IST
The erroneous assertion of Nalanda's primacy historically marginalises the contributions of other ancient centres of learning, writes Ravi Kalia
The Nalanda University enterprise has been a national misadventure because of the lack of fiscal probity.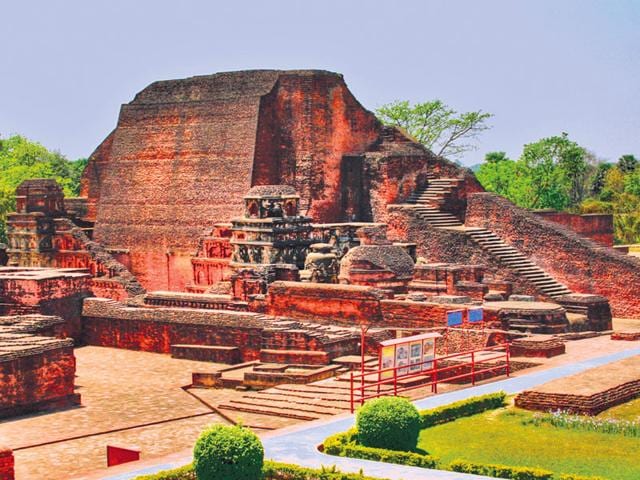 It has also been a source of international embarrassment because the resurrection of Nalanda was to be underwritten by seven countries (Australia, New Zealand, Brunei, Cambodia, Singapore, Lao PDR and Myanmar) that signed the memorandum of understanding (MoU) with India in 2013.
China, Japan, Thailand and other countries had also made commitments for or contributed to the rebuilding of Nalanda. And because of its expected international outlook, Nalanda was to transform the image of India's insular higher education system, but cronyism in recruitment and hidebound curriculum have had a defiling effect.
Nalanda's placement at Rajgir (10 km from ancient Nalanda) in rural Bihar was justified by claiming that it would bring employment and development to the region — a common argument of avaricious developers preying on rural lands to build multi-storeyed apartments.
Sober minds like Philip Altbach, director of the Center for International Higher Education at Boston College, had sounded a note of caution by stating that "Nalanda may attract a certain number of big thinkers, but academics like to be where the infrastructure is.
They want culture and amenities and coffee shops, and a wider community of intellectuals than that [of Nalanda] on campus".
The Nalanda Mentor Group, headed by Nobel laureate Amartya Sen, came to be viewed as a self-appointed group mainly educated in the West and adrift from the Asian Buddhist intellectual community.
The exclusion of Buddhist representation in the Mentor Group, and absence of any Buddhist studies in the curriculum produced scathing criticism from Buddhist scholars and activists.
"They totally missed the core philosophy and ingenuity of the original Nalanda," thundered Malaysian Buddhist Lim Kooi Fong, the founder of the Buddhist Channel, the premier Buddhist news website.
"There is no Sri Lankan representation on the board [of governors] despite this country's claim to have the oldest continuing Buddhist civilisation in the world," complained lawyer and Buddhist activist Senaka Weeraratne.
The whole Nalanda enterprise rose from a fundamentally false premise: That "Nalanda was the only institution of learning outside China to which anyone from ancient China ever went for higher education" (Chancellor Amartya Sen's interview in the Indian Express, February 28, 2015).
Regrettably, this erroneous assertion of Nalanda's primacy historically marginalises the contributions of other ancient centres of learning in the development of the Indian civilisation. Between Nalanda in the east in Bihar and Takshashila in the west in Rawalpindi district of Pakistani Punjab, there were many other distinguished places of learning visited by foreigners.
Obviously, Nalanda profited from the fact that the distance between Chengdu in China and Patna is roughly 1,900 km, making Nalanda more accessible to the ancient Chinese.
The relative quiet and geographic location that protected the Magadha region from Central Asian invasions also facilitated Nalanda's rise to importance.
Takshashila benefited from its proximity to the Silk Route, notwithstanding its location closer to the Khyber Pass, the gateway to the invading hordes from Central Asia and farther west.
Still, the Brahmanical culture and the influx of invading peoples prompted the rise of yet other centres in classical India: Vikramashila in Patna's Bhagalpur district was a robust one, matching Nalanda; Pushpagiri in ancient Kalinga (Odisha) was also a thriving institution; Dharmapala of the Pala dynasty during the late 8th century established Odantapuri in Magadha (Patna), as well as Somapura Mahavihara in Bengal; and in southern India, Travancore and Cochin were frontiers of learning.
So what should India do with its ancient centres of learning?
One option is to turn them into museums, suggested the distinguished economist Jagdish Bhagwati, which would attract visitors globally and serve the local community and schools "funded by private philanthropy and small individual contributions by citizens in what might be called the 'Tirupati Temple approach'".
The Tirupati Temple attracts more than 100,000 visitors a day, generating a daily income upward of $150,000. Of course, the popularity of and devotion to Lord Sri Venkateshwara, the presiding deity of Tirupati, result from the bhakti tradition rooted inVaisnavism in south India, which democratised Hinduism, making Sri Venkateshwara the most accessible of all Hindu gods.
But museums don't do well in India. Given the remoteness and rural settings of India's ancient learning spots, and their spiritual and artistic quest aimed at achieving self-realisation, a hybrid model might be better suited for India: one that incorporates the features of Tirupati and the Buddhist-oriented Rubin Museum of Art in New York.
Founded by Donald and Shelley Rubin, and committed to Tibetan art and Buddhism, its mission statement is much broader: "The Rubin Museum of Art is an arts and cultural hub in New York [City] … that inspires visitors to make connections between contemporary life and the art and ideas of the Himalayas, India, and neighbouring regions."
In the City, "Rubin is a space to contemplate ideas that extend across history and span human cultures."
Exploration of Buddhist spirituality for self-actualisation and cross-cultural learning is precisely what India's ancient learning centres pursued, including at Valabhi.
Following the collapse of the Guptas in the 5th century, Valabhipura emerged and thrived as the centre of learning in Saurashtra between the 6th and 12th centuries.
The kingdom of Valabhi in peninsular Gujarat stood independent of Magadha, with its capital at Valabhipura.
In the 7th century, Chinese travellers Hiuen Tsang (Xuanzang, Hsuan Tsang) and I-tsing (Yijing) compared Valabhipura to Nalanda and with the best centres of learning in China.
Between AD 400 and 700, many Chinese travellers and Buddhist monks visited India in search for original Buddhist scriptures in Sanskrit and Pali, producing cross-fertilisation of ideas and knowledge between the two great Asian civilisations.
Will India move quickly to correct course and recapture that vision at its ancient centres of learning?
Ravi Kalia is professor of Indian Architectural and Urban History at the City College of New York
The views expressed are personal