Why China is keen to discuss CPEC with India
Feb 19, 2018 07:33 PM IST
Beijing is strenuously pushing the Belt and Road Initiative to dispel doubts being raised over its economic benefits
Faced with growing doubts about the much-touted economic benefits of China's Belt and Road Initiative (BRI), accentuated by the recent cancellation of two projects by Pakistan and Nepal, its earliest supporters, the 19th Congress of the Chinese Communist Party (CCP) has incorporated the ambitious $1.4 trillion geo-economic BRI into the Party Constitution. Inextricably woven into Chinese President Xi Jinping's agenda of making China a global power by 2050, the BRI is set to be included in the country's constitution at the National People's Congress — China's version of a parliament — in March 2018. This will assure it of party and State backing.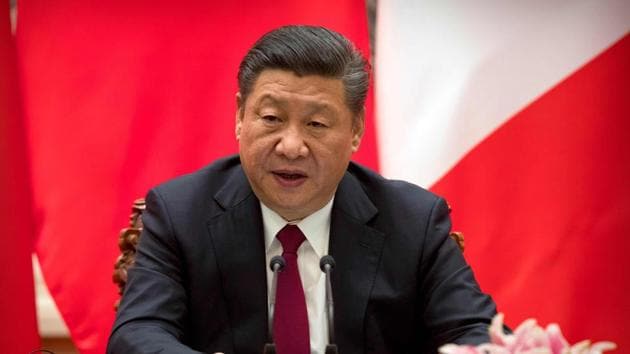 In recent months, China has begun to strenuously push the BRI. The speech of last month by Harvard-educated Chinese Politburo member, Liu He, director of the Central Small Leading Group for Economic Reforms, reflected this. Reiterating China's commitment to globalisation asserted by Chinese President Xi Jinping last year at Davos, Liu He linked this with the BRI. Saying it would ease restrictions on market access he described it as upholding the governance concept of discussing together, building together, and sharing together.
At the same time, the New York Times reported that President Michel Temer of Brazil received an unexpected offer from Beijing for Latin American nations to work closely with China on the BRI. Elsewhere in Davos, Pakistan's Prime Minister Shahid Khaqan Abbasi praised China's rapidly expanding investments in Pakistan, including power stations and a large port. He dismissed reports of controversy over whether China's giant construction projects were compromising Pakistan's sovereignty, its environment or its financial stability.
During his recent visit to China, French President Emmanuel Macron tactfully avoided endorsing the BRI. Instead, he reminded interlocutors that the ancient Silk Road was never only Chinese, but a Sino-European trade route, adding that New Silk Roads could not be "one-way". Keen to avoid a repetition of this failure, China exerted pressure on British Prime Minister Theresa May, with its ambassador to the UK, Liu Xiaoming, urging her to endorse the BRI during her three-day visit to China. While Jin Canrong, Professor of International Relations at Renmin University, said "If Prime Minister May is smart enough, she would know what China wants to hear from her the most is the support of the belt and road," May finally avoided endorsing the BRI. Meanwhile, the US-based Centre for Strategic International Studies estimated that 89% of the contracts of the BRI have gone to Chinese companies.
China is also moving quickly on the ground to establish a dispute settlement mechanism for business along the Belt and Road Initiative. China's official news agency, Xinhua, reported recently that Chinese President Xi Jinping, who is also Chairman of the Leading Group for Deepening the Reform of the Central Government, while presiding over a meeting of the leading group, delivered an important speech. Among other issues, the meeting emphasised the need for establishing a dispute settlement mechanism for One belt, One road and establishing an effective litigation, mediation and arbitration convergence mechanism to resolve the Belt and Road business and investment disputes in accordance with the law, protect the legitimate rights and interests of Chinese and foreign parties on an equal footing, and create a stable, fair and transparent business environment for the rule of law.
China's Supreme Court is now setting up an international commercial court in Beijing, Shanghai and Xi'an. Giving an idea of the rules that will govern these courts, an official at the China Council for the Promotion of International Trade said "many business entities along the BRI do not adapt well to the current way of dispute resolution, which uses the common law of the US and European countries." Separately, former Chinese Vice Foreign Minister, He Yafei, said, "China believes it is now time to offer our own ideas about global governance, [BRI] transcends ideology and national borders."
China's latest offer to India to discuss the China Pakistan Economic Corridor, which is the sixth of seven segments of the BRI, needs to be viewed in this backdrop.
Jayadeva Ranade is a former additional secretary in the cabinet secretariat, Government of India and is presently president of the Centre for China Analysis and Strategy.
The views expressed are personal
"Exciting news! Hindustan Times is now on WhatsApp Channels
Subscribe today by clicking the link and stay updated with the latest news!"
Click here!