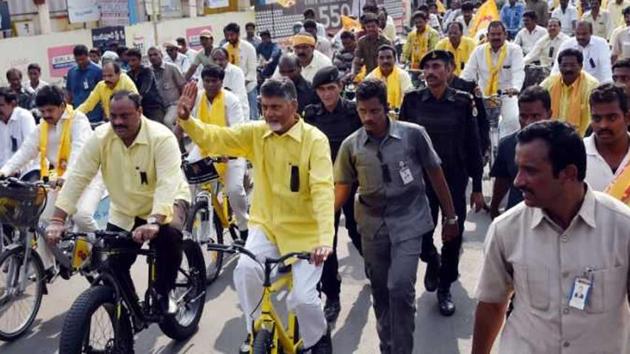 Modi govt will disappear if it toys with Andhra sentiments: Chandrababu Naidu
Both ruling TDP and the opposition parties in the state stepped up their agitation to demand special status for Andhra Pradesh on Friday.
UPDATED ON APR 06, 2018 07:07 PM IST
Andhra Pradesh witnessed several protest rallies and demonstrations on Friday, with the ruling Telugu Desam Party (TDP) and opposition parties stepping up their agitation to demand special category status for the state as well as implementation of all the promises made in the AP Reorganisation Act-2014.
Even as the Lok Sabha was adjourned sine die without the no-confidence motion against the NDA government being taken up, TDP president and chief minister N Chandrababu Naidu called for bicycle rallies by party leaders and cadre across the state to highlight the "injustice meted out to Andhra Pradesh".
Naidu himself led a bicycle rally from Venkatayapalem village in Amaravati to the state legislative assembly at Velagapudi, which is three kilometres away. He was accompanied by cabinet colleagues, including his son Nara Lokesh, besides several MLAs, MLCs and party leaders.
Before embarking on the cycle rally, the chief minister garlanded a statue of former chief minister NT Rama Rao and addressed a gathering at Venkatayapalem. He warned Prime Minister Narendra Modi that toying with the sentiments of Andhra Pradesh would make him "disappear into history".
"It seems like the Centre is underestimating the power of the Telugu people, and wants to weaken the state. That can never happen. Everybody knows what happened to former Prime Minister Indira Gandhi when she tried to topple the NTR government in 1984. The Congress party went into political oblivion by dividing the combined state. If Modi tries to play with the sentiments of the Andhra people, he will meet the same fate," Naidu said.
Hundreds of activists affiliated to the CPI, CPI(M) and Jana Sena Party also took out a march traversing three-and-a-half kilometres from Benz Circle to Ramavarappadu ring road to press for special category status.
In a teleconference held earlier in the day, Naidu asked party MPs to bring the issue to the President's notice. He also referred to the absence of YSR Congress MPs from the Opposition's human chain protest in Parliament on Thursday to allege that they were acting in collusion with the BJP. "The people are observing their dramas. They will be taught a fitting lesson," he said.
Close