Latest from opposition party
The Congress has made it clear that it wouldn't field any candidate from the party; the Trinamool Congress, the second-largest Opposition party, has signalled it is 'not rushing this time'.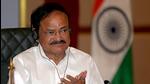 Yashwant Sinha said that if he is elected as the next President of India, he will raise his voice for all common people of the country, including unemployed youth, women and all "marginalised sections of the society".

Written by Sharangee Dutta | Edited by Sohini Goswami
, New Delhi
Here are today's top news, analysis, and opinion. Know all about the latest news and other news updates from Hindustan Times.

Union minister of petroleum and natural Hardeep Singh Puri earlier today hit out at Uddhav Thackeray-led Maharashtra government for not reducing taxes on petrol and diesel prices.

Written by Sharangee Dutta | Edited by Chandrashekar Srinivasan
, New Delhi
On Thursday, several Opposition MPs from the Lok Sabha are also likely to join the dharna in front of the Mahatma Gandhi statue at the Parliament complex in solidarity with their Rajya Sabha counterparts, the people cited above said.