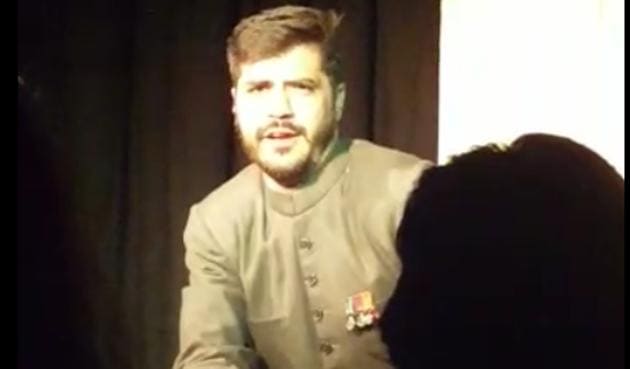 A one-man show from Ghalib to a Greek tragedy
The "Major" Actor's Assorted Monologues is a one-hour long solo performance drawing from poetry, stories and letters in multiple languages.
UPDATED ON DEC 25, 2016 11:00 AM IST
Major Mohommed Ali Shah first acted in a play when he was six years old. He always knew he wanted to be an actor, he says, but he joined the Indian Army because it was "a family tradition" (his father had also served in the army). The same could be said of acting because Shah is the nephew of veteran theatre and film actor Naseeruddin Shah.
Now, at 37, Shah is back on stage with a one-man show: The "Major" Actor's Assorted Monologues. The one-hour long performance, which draws from poetry, plays, stories and letters in Hindi, Urdu and English, will be seen in Delhi for the first time on Sunday.
Shah's monologues are a collection of things he has read and loved over the years -- I'm My Own Grandpa, a funny song on convoluted family relationships; an excerpt from Mohan Rakesh's acclaimed novel, Aadhe Adhure; an Urdu rendition of the Greek tragedy, Oedipus Rex; Mirza Ghalib's letters; Faiz Ahmed Faiz's poems; and even some of Shakespeare's famous soliloquies.
It was a while before Shah got around to his childhood dream. Only after a five-year stint in the army and, then, a career in management, did Shah move to Mumbai to pursue acting. He has since acted in Bollywood films such as the Saif Ali Khan starrer Agent Vinod and Vishal Bharadwaj's adaptation of Hamlet, Haider. He has also appeared in several plays.
But The "Major" Actor's Assorted Monologues is his first solo performance. Although the show is a medley of sorts, Shah says, each of the monologues is linked to the one that follows it. He chose a monologue over a scripted play with multiple actors, he says, because the former is more challenging, especially when it comes to holding the audience's attention.
What: The "Major" Actor's Assorted Monologues
Where: Epicentre, Apparel House, Sector 44, Gurugram
Nearest metro station: Huda Metro
When: December 25, 6 pm
Buy tickets online
Close