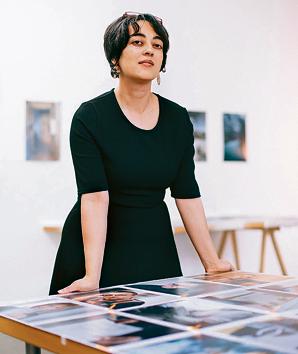 Kochi Biennale curator Shubigi Rao takes us through her mood board
The visual artist and theorist talks about the purpose of the biennale, her endeavour to keep it regionally rooted and the challenges of putting together a three-month long show.
Hindustan Times | By Natasha Rego
UPDATED ON MAY 30, 2019 06:55 PM IST
The Indian-born Singapore-based artist Shubigi Rao, 43, recently announced as the curator of the fifth edition of the Kochi-Muziris Biennale, is no stranger to sprawling, long-term projects, multiple media, or expansive timelines.
But even so, 18 months seems like barely enough to define a theme, commission scores of artworks, and organise the spaces that will host the next edition of India's only three-month exhibition of contemporary art, which is slated to open in December 2020.
Her current project, she admits, laughing, has been a decade in the making. Called Pulp: A Short Biography of the Banished Book, it is a film, book and visual art project on the history of book destruction.
Rao is a polymath whose primary occupation is that of visual artist. She is also a writer and theorist whose works deal with the study of languages, libraries and archives, as well as subjects such as archaeology, neuroscience and natural history. She has an uncanny knack for finding the connections between these varied fields, which results in complex and layered installations.
At the last edition of the biennale, Rao created a piece titled The Pelagic Tracts, a work that charts the lost history of the book smugglers of Kochi right up to the post-floods devastation of 2018. For this project, she spent weeks researching the libraries, boatyards, pulping stations and scrapyards of the little port town.
The 2018-19 biennale, incidentally, was the one that ran into controversy over alleged non-payments by the organisers, to workers and contractors. "It is in the process of being resolved," says Bose Krishnamachari, president of the Kochi Biennale Foundation.
On the choice of curator this time — previous curators have included Jitish Kallat, Sudarshan Shetty and Anita Dube — Krishnamachari added that it was in keeping with the tradition of having an artist at the helm.
"Shubigi Rao is not just an artist; she's also a theorist and writer. Her range is vast and she has a liberal way of looking at art with commitment as well as research," he says. "There is a freshness to her approach, which we all agreed would make her the right person for the job."
Excerpts from an interview with Rao…
How would you define the purpose and significance of the biennale?
Biennales are sometimes floating cities that are unmoored from their locality or regionality. The Kochi-Muziris Biennale is rooted in the intertwined histories and cultural multiplicities of Kochi, while providing a crucial platform for larger discourse of the critical, political, and social in artistic practices. To shift the lens through which we read the spectacle of exhibition, we must reposition discourse and practice through acknowledging intersecting contexts. I believe it is possible for the biennale to retain regional realities and histories through cementing existing affinities and establishing new commons.
What will you be looking for in an artist and their work, while making your curatorial choices?
A biennale of this scale is best suited to an inclusive approach. I am invariably appreciative of artists who are sensitive to their material, environment, and realities, and whose practices maintain an artistic integrity, or fidelity, to their stated intentions.
How do you think your own art will inform your role as curator?
My practice has crossed multiple fields, and this disrespect for gatekeeping and genre-specificity is at the heart of quite a lot of my work. This celebration of risk and nonconformity is also something I employed over my 11 years as a lecturer and supervisor of student dissertation and practice. But perhaps what may prove more useful here is my ability to manage sprawling long-term projects. The recognition of existing communities, lived experiences, thought and practice is significant to maintaining a collective claim to the biennale, and this is where I find my practice and the KMB are mutually aligned.
What experiences from participating in biennales elsewhere, and at Kochi-Muziris, will you be drawing on as you curate the next edition?
Time management is critical, as well as clarity of purpose and vision in formulating a curatorial framework. The latter works best when allowing itself to be informed by artists' practices, and being porous and indiscriminate at the outset, and then being refined through rigorous enquiry. I also believe that a biennale of this scale is never a singular enterprise – it involves the dedicated labour and assurance of every individual in the KMB team. I was privileged to see them in action during the last edition, which is why I have the confidence to curate the next one.
How does the KMB strike a balance between staying rooted to the culture, history and ecosystem of the little fort town and providing a platform for larger discourse?
The Kochi-Muziris Biennale is unique for two distinct reasons – first, it is an artist-led endeavour, and is therefore more liberated from certain entrenched curatorial methods. It allows for new inclusive forms, discussions, and practices with a sensitivity that is sometimes absent in the replication of conventional exhibition formats. So while the biennale as format is still important, it becomes vital too to recognise that the global south has its own burgeoning networks of thought, practice, and discourse. This is very exciting to me.
Second, as a people's biennale, it is firmly rooted in its locale, and this regionality is crucial. As I see it, the biennale can be a crossing for global conversations and exchanges, without losing the richness and depth of original contexts. The culture, history, and ecosystem of Kochi are incredibly robust. Historically Kochi has withstood and amalgamated the often-fraught legacies of multiple rulers, ideologies, and four European colonisers. I couldn't imagine a more apt setting within which to stage an international people's biennale.
What do you foresee as the biggest challenges in putting together this three-month show?
I'm sure the challenges I conjure up at this stage will bear no resemblance to what will come! And yet it is a creative act to think through problems, circumvent obstacles, and work with people to collectively and inventively dismantle challenges. In reality, I find myself looking forward to it.
Close