At Kashmir's century old silk mill, art unites Muslims and Pandits
Updated on Jun 22, 2018 02:03 PM IST
Over 60 Kashmiri artists – Muslims as well as migrant Pandits – have come together to promote the idea of "togetherness and dialogue" through their paintings, pictures and art installations.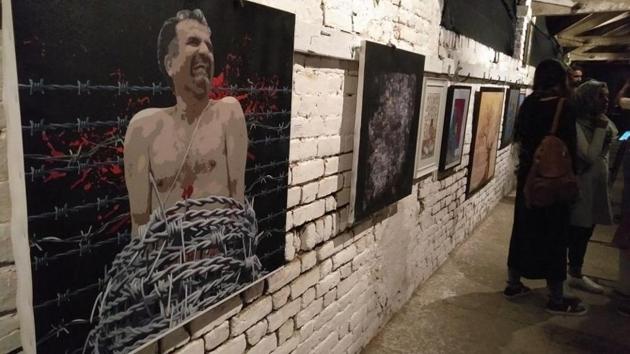 Hindustan Times, Srinagar |
, Srinagar
Ashiq Hussain
At the 101-year-old decaying and dilapidated silk mill of Kashmir, art is trying to revive the harmony between Kashmir's discordant communities.
Over 60 Kashmiri artists – Muslims as well as migrant Pandits – have come together to promote the idea of "togetherness and dialogue" through their paintings, pictures and art installations at the Old Silk Factory in Srinagar.
Let us take the examples of two print-on-canvas art forms of Chushool Mahaldar which he has named 'Inside' and 'Fading Community'. In one canvas, a man, wearing just a thread across his torso, is struggling to break free from the bared wires encircling his bloodied body. Next to it is another canvas which depicts four portraits – fading one after another – of an old man wearing a skull cap.
"These two paintings are a representation of how both Hindus and Muslims have suffered in Kashmir at their own ends for the past 30 years," said 55-year-old artist Mahaldar.
"The people, who left Kashmir due to terrorism and have settled down outside, are still struggling. It is not due to terrorism but due to their displacement. Every time they realise there is no home. At the same time the other community is equally troubled. Their memories of brotherhood and communion that once existed have also faded," Mahaldar said, describing how his family left Kashmir's Rainawari when militancy erupted in 1990s.
The concourse of art at the Old Silk Factory has been organised by Kashmir Art Quest run by a 30-year-old Kashmiri artist Mujtaba Rizvi, as part of its annual contemporary art show. Rizvi and Delhi based Kashmiri Veer Munshi are curating the show which was thrown open on June 18 and will continue till June 24.
Rizvi said it was after 66 years that so many Kashmiri artists have come together where some 120 paintings and art installations created specifically for this exhibition are being showcased. Last time 24 artists had met in a coffee shop on the banks of River Jhelum in 1951, he said.
He said the concourse was able to bring together the artists of the two communities and he himself has installed three blank canvasses in the exhibition with titles 'Memory', 'Homeland' and 'Identity'. A brush and ink lay in the front to trigger individual impressions from the visitors.
"This exhibition is an emotional experience for me. I used to listen from our older generation about Pandits. It was for the first time that we got together, ate together and talked about the past, present and future. We went to old localities where these artists used to live," said Rizvi, who has done his engineering from Mumbai and then went to do an extension degree from London to learn art.
'When are you inviting us again'
That is the reason that an 80-year-old Kashmiri Pandit artist was able to leave behind his anger simmering since his migration and prepare three paintings 'Tragedy of Errors', he said, adding, "He had left Kashmir with bitter memories. When he came here he was in tears. Now, he says when are you inviting us again."
The organisers had specifically selected the Old Silk Factory for this exhibition to indicate the common and deep bonds the two communities shared in the past and also how time is affecting their strength.
"The Factory also has a special place in Kashmir's history. It was built in 1917. In 1931, Kashmiri weavers revolted against the repressive Maharaja. And now, for the past 54 years it has been abandoned. It represents a void which needs to be filled," Rizvi said.
Neeraj Baskhi, a 46-year-old artist, said the exhibition was a good beginning for the young artists of the Valley. "The budding artists were very inquisitive about the exhibition," Bakshi who makes paintings with water colour said.
He said the art exhibition was an overwhelming experience for him. "I met friends after 30 years. It refreshed my memories. I believe these events help in filling the gap which has crept in due to the ideological differences in the two communities," he said.