At this art exhibition, travel tales from an artist's nomadic life take centre stage
Artist Vinita Karim's nomadic lifestyle gets depicted in 34 paintings on display as part of the exhibition Magical Musings.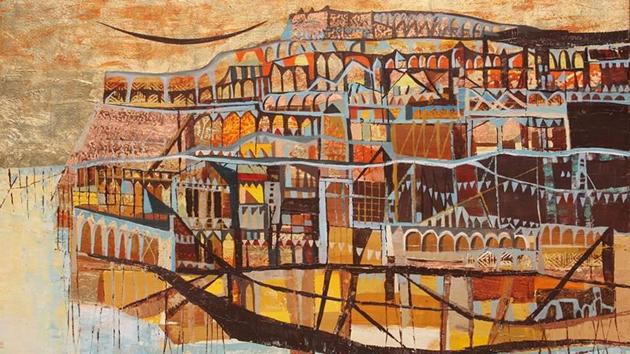 Updated on Dec 08, 2018 11:35 AM IST
Hindustan Times |
HT Correspondent
From the sand dunes of Egypt to the islands of the Philippines, from the ghats of Varanasi to the rivers of Bangladesh, at this ongoing exhibition in the city, a viewer can travel the world through canvases of artist Vinita Karim. The works on display, at the exhibition Magical Musings, are a glimpse into Karim's nomadic lifestyle — she was born in Myanmar, educated in Sweden and the Philippines, but is originally from India.
As the artist's lifestyle takes her all over the world, she channels her constantly changing surroundings into her passion for art. So, no matter where she goes, through her paintings, sculptures and installations, Karim carries with her the rest of the world. In this show of vividly-coloured landscapes, Karim displays 34 paintings and 10 sculptures. "I have lived and worked throughout Asia, the Middle East, and Europe. My landscapes draw on my travel and experiences yet consistently link back to my roots in India. The gilt-leafed canvases are set in lands lived and imagined, built around life lines of waters, in cities with significant sea histories."

There appears to be a similarity in her canvases, but "no image is an exact replica of any one city". Her musings are brought alive with the magical elements of each place. "My abstract cityscapes invite the viewer to enter themselves, and inhabit a world with a pure golden sky, deep reds and blues shaping a rolling sea, festively coloured buildings, and a thin cloud stretching endlessly across the sky."
The dream-like cityscapes therefore reveal the beauty, grace and joy that the artist finds through both adversity and success. Every element in the paintings celebrates life. Be it the perfect crescent of the moon falling closer to the Earth to experience the wonder, the bridges connecting land and water, or the gold and silver foil adorning the landscape.
Besides, the egg -shaped sculptures are titled Birth of a New World, and depict giving birth and regeneration. "The 'egg' series are not just shapes with colours but also represent the transition from womanhood to motherhood, which I feel is the greatest process of creation of a new life," says Karim.
Follow more stories on Facebook and Twitter
Topics
Close Story