You need to know about Ohitorisama or the Japanese art of going solo
Nov 11, 2018 05:37 PM IST
Signs of the "ohitorisama" are everywhere in Japan, from cinemas offering seats with partitions to theme parks that let singles jump the queue at certain rides.
Every so often, 33-year-old Masaki Kitakoga slips into a tiny booth with a desk and a chair and belts out karaoke tunes for 90 minutes — completely on his own. Kitakoga is part of a growing trend in Japan favouring solo activities that is now so widespread it has its own name: "ohitorisama" or "on your own".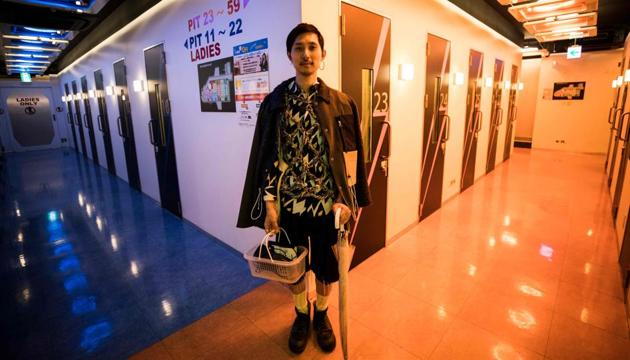 Analysts say that Japan's demographic make-up — more than one third of households contain just one person — makes it perfect for the solo market, with many also craving "me time" in a fast-paced, interconnected and workaholic society.
Karaoke, in many ways the archetypal social activity, is a case in point. Six years ago, the Koshidaka karaoke chain realised that some 30% of its customers in certain locations came on their own, so it set up "1Kara", tiny booths for solo singers.
Now the firm runs a network of eight speciality karaoke parlours that each sees "tens of thousands" of crooners flock to its solo booths, according to Daiki Yamatani, a spokesman for the chain. "It's a truly liberating experience," said Kitakoga. "I like to sing. But beyond that, this lets me shake off stress."
As demand for such services grows, the stigma of doing activities alone has decreased, added Kitakoga, who also sings karaoke occasionally with friends. Many lone karaoke singers say they like singing just the songs they want to, without bowing to peer pressure for sing-along classics that everyone else knows.
Super solo society
Signs of the "ohitorisama" are everywhere in Japan, from cinemas offering seats with partitions to theme parks that let singles jump the queue at certain rides. Grocery stores sell condiments and vegetables for single diners while travel agents design itineraries aimed at the solo voyager. The "super solo society" has become a buzzword among social scientists and marketing gurus.
"Businesses are offering various goods and services to meet the trend of people enjoying solo activities," said Motoko Matsushita, senior consultant with Nomura Research Institute. "The depth and range of such services reflect the expanding nature of the consumer trend," she said.
The growing phenomenon is also helping to liberate individuals from feeling like they have to conform to peer pressure, added Matsushita. Surveys show Japanese consumers — especially younger ones — rate quality time alone above hours spent with family and friends.
Official data show the ratio of households with parents and children is gradually shrinking as fewer adults form relationships. In 1980 in Japan, only one in 50 men had never been married by the age of 50 and one in 22 women. That ratio is now one in four and one in seven respectively. The demographic shift comes as Japan also grapples with a rapidly ageing population, with nearly 28% of Japanese people over the age of 65.
And the pace of modern life with ubiquitous social media is also pushing this trend, experts say, as fatigued people seek relief from round-the-clock contact. "Our data show sociable individuals tend to... seek solo activities," said Matsushita, a married mother-of-two, who says she too is partial to a spot of solo karaoke.
Personal space
Restaurants are also cashing in. At the "Ichiran" ramen noodle chain, it is possible to enjoy a meal with barely any human interaction whatsoever. Customers order from vending machines and then sit in a partitioned booth to slurp down their noodles, unlike the experience at many ramen joints, where orders are shouted by teams of chefs behind greasy counters.
"We were doing this even before the solo activities trend started. This 'personal space' concept has been well received in foreign markets too" said Satomi Nozaki, spokeswoman at the popular chain, which also has outlets overseas.
Karaoke fan Kitakoga also enjoys solo travel, taking himself off alone to a remote island in southern Japan last year. "Sure, it would have been fun to travel with friends too. But I knew what I wanted to do there and it was fantastic because I was able to do everything I wanted to do at the pace I wanted to do it," he said.