Punjab elections: Rahul Gandhi names Amarinder Singh as Congress CM candidate
Updated on Jan 28, 2017 07:55 AM IST
Amarinder Singh was on Friday announced as the Congress' chief ministerial candidate for the upcoming assembly election in Punjab.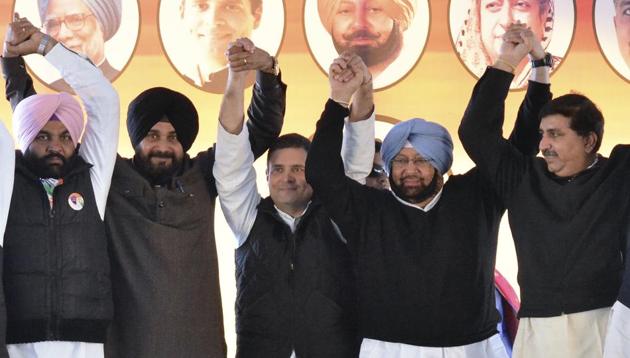 Congress vice-president Rahul Gandhi on Friday officially announced Punjab Congress president Captain Amarinder Singh as the chief ministerial candidate for the next month's state assembly elections.
Addressing his first political rally in the Shiromani Akali Dal (SAD) assembly stronghold of Majitha, near Amritsar, Gandhi said only a Punjabi leader could lead the state.
"Amarinder Singh has given his blood and sweat for Punjab. He has worked day and night for the development of Punjab. He has always worked for the Punjabi and Sardar community. He is going to be our chief minister," Gandhi said.
Cabinet minister Bikram Singh Majithia, the younger brother of Union minister and wife of deputy chief minister Sukhbir Singh Badal Harsimrat Kaur Badal, represents Majitha.
Captain Amarinder Singh is all set to fight the assembly elections against the SAD head and Punjab chief minister Parkash Singh Badal from Lambi. Punjab will go to the polls for 117 seats in a single phase on February 4. Votes will be counted on March 1.
The Congress is heading for a bitter political fight with the ruling SAD-Bharatiya Janata Party (BJP) alliance and the Aam Aadmi Party (AAP).
Gandhi lashed out at the ruling SAD saying Punjab is under the monopoly of the Badal family. He also said if voted to power, the Congress would bring in such a stringent law against the menace of drugs in Punjab that peddlers would shiver even thinking about drugs.
"The Congress will fight drugs and we will win it," he said.
The Congress vice-president is on a three-day election tour of the state. The campaign, aimed at launching a mega-offensive against the ruling Badal family, will also see him addressing rallies at Rampura Phul, Talwandi Sabo and Bathinda Urban on the first day.
The highlight of Gandhi's tour will be joint public rallies with Captain Amarinder Singh and former cricketer Navjot Singh Sidhu at Jalalabad and Lambi.
The Congress vice-president is addressing this rally the same day as Prime Minister Narendra Modi spoke at a rally in Jalandhar. AAP leader and Delhi CM Arvind Kejriwal is also slated to address a public meeting.
(With agency inputs)