Himachal elections: Congress will be wiped out, says BJP CM candidate Dhumal
Nov 06, 2017 07:49 AM IST
Dhumal predicted that the BJP would win more than 60 seats in the 68- member assembly.
The Bharatiya Janata Party's chief ministerial candidate in Himachal Pradesh, Prem Kumar Dhumal, 73, said in an interview that his top priority would be restoring law and order, which, he alleged, has taken a turn for the worse over the past five year under a Congress government headed by Virbhadra Singh.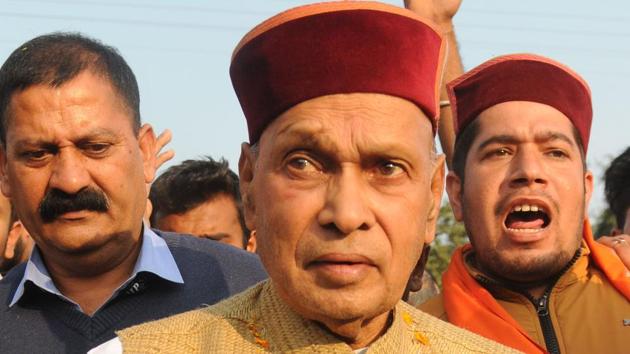 "I have to protect life, property and honour of the people. This is my top priority," he said over phone on his way back from Prime Minister Narendra Modi's election rally in Una. Dhumal, who specifically mentioned the need to "protect the dignity of women" said the state had its share of young police officers who are currently "side-lined" and will help him do this.
Dhumal predicted that the BJP would win more than 60 seats in the 68- member assembly; the party's target is 50-plus he added. The election is scheduled for 9 November. "With PM Modi holding election rallies all over the State, the mood of public is such that the Congress will be wiped out. The Virbhadra regime is a symbol of corruption and mis-governance and people have decided to uproot it," he said.
Dhumal said that following Modi's instructions he would target the drug, liquor, forest, land and transfer mafias operating in the state under the protection of the Congress regime.
When asked whether he was encountering any factionalism within his own party with workers owing allegiance to Union health minister J P Nadda and former chief minister Shanta Kumar, both of whom had chief ministerial aspirations before the BJP chose him, working at cross purposes, Dhumal said everyone was working for the "lotus: (the BJP's symbol). "National President Amit Shah has already given a message to all leaders and workers that indiscipline will not be tolerated," he added.
Dhumal also took a shot at the Congress' national leadership for not turning up to support Virbhadra Singh's election campaign. "The Congress national leadership has already conceded defeat and wants Virbhadra Singh to take all the discredit for the forthcoming result."
When asked how will he improve the poor road infrastructure in the state and fulfill his dream of railroad to Leh via Himachal Pradesh, Dhumal said that the Modi government has already come to his aid by planning to invest Rs 70,000 crore for road and bridge infrastructure. "The Modi government had sanctioned Rs 329 crore to the state for preparing detailed project reports for 69 national highway roads and 64 bridges but the Virbhadra government did not get them ready. If elected, we will make this a priority as this will help tourism industry and generate economic activity and jobs," Dhumal said.
But he repeated that his first priority is to restore the primacy of law so that heinous acts such as the Khotkhai rape case are not repeated. His reference is to the rape and murder of a 16-year-old schoolgirl in Shimla's Khothai area in July.