JD(U) not contesting in UP elections 'to strengthen secular forces'
Updated on Jan 25, 2017 09:40 PM IST
Disappointment over non-formation of a comprehensive coalition in UP on the lines of grand alliance in Bihar, the JD(U) says it has taken the decision 'to prevent split in secular votes'.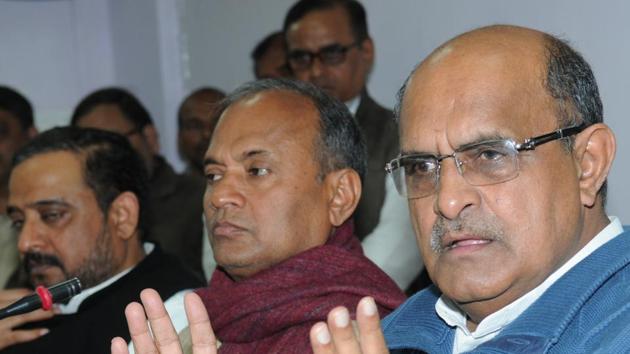 Left out by the Samajwadi Party (SP) and the Congress in seat sharing exercise, Janata Dal (United) will not contest Uttar Pradesh assembly elections.
JD(U) president and Bihar chief minister Ntish Kumar will also not campaign for any party or alliance, even if invited.
Party's national general secretary KC Tyagi on Wednesday said it was unfortunate that the SP and the Congress had failed to stitch a "Bihar-like proven alliance" to take on communal forces in UP.
"At the same time, we don't want to split secular votes, as the SP did during Bihar elections, by fielding JD(U) candidates. We will not like to be a splinter group in the race," Tyagi said. "If we have to win the 2019 Lok Sabha elections, then it is necessary that BJP must be defeated in UP polls," he added.
Tyagi said Rajya Sabha member RCP Sinha, who was spearheading the JD(U) campaign in UP and had also organised a few public meetings of the Bihar CM, would convince the enthusiastic party cadres in the poll-bound state about the decision and the reasons for it.
Asked if Nitish Kumar would campaign if invited by UP chief minister Akhilesh Yadav, Bihar minister Rajiv Ranjan alias Lallan Singh said when the "JD(U) has not been considered for being part of an anti-BJP alliance, there is no question of going there."
However, according to sources, JD(U)'s main ally in Bihar, the RJD, is likely to campaign in UP. On Tuesday, senior RJD leader and former MP Raghuvansh Prasad Singh had also said that the JD(U) should not throw its hat in the UP ring.
"Our good wishes will be with the secular, progressive alliance," said Tyagi, citing the statement of RSS public chief Manmohan Vaidya for review of reservation policy as just the right trigger for a Bihar-like rout of the saffron party.
Tyagi said the desperation in the BJP was already showing with the statement of party's UP chief Keshav Prasad Maurya on construction of Ram temple if it was voted to power.
"It is sheer mockery Election Commission's directive to desist from seeking votes in the name of religion and caste. But then, BJP has conveniently turned Ram ka mandir into chunav ka mandir," he added.
On demonetisation, the JD(U) maintained its stand of backing the move in keeping with its principled stand against corruption, but sought sops for the unorganised sector hit due to recession and job loss.
"Nitish Kumar backed it from day one as a bold step, but always maintained that it was not enough. More than 75 days have passed since the note ban and it was high time the Centre shared its benefits with the public," he added.
He said that the attack on black money required taking on all kinds of benami transactions and more importantly transparency in political donations.
"As per ADR report, BJP and Congress got Rs 750 crore and Rs 675 crore, respectively, through donations during last general elections, out of which nearly 70% was through unidentified sources. The last general elections were the costliest and the way corporates pumped in money, it hardly looked like donations," Tyagi said, demanding all donations to political parties should be accounted for.