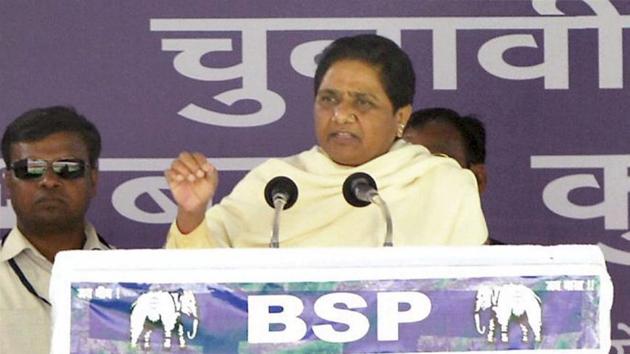 Mayawati promises to carve out Purvanchal state ahead of phase 5 of UP polls
Mayawati underlined her resolve on Sunday to split UP into four smaller states if the BSP wins the assembly polls. Among them is Purvanchal that she had proposed in her last stint as CM.
UPDATED ON FEB 28, 2017 01:38 AM IST
Bahujan Samaj Party (BSP) chief Mayawati on Sunday reiterated that if her party comes to power in Uttar Pradesh, it will not rest till it divides the state into four smaller states, including Purvanchal as proposed in her previous tenure.
She was addressing an election meeting at Champa Devi Park in Gorakhpur, scheduled to go to poll in the sixth phase on March 4.
Towards the end of her previous tenure in 2011, the UP assembly had passed a resolution for division of Uttar Pradesh into four states.
"Your under-developed district can't be developed till the creation of a separate state. Efforts in this direction will be stepped up if the BSP comes to power. This election, you need to punish the Congress, the BJP and the SP, which have been opposing creation of Purvanchal," she said.
She attacked the Bharatiya Janata Party (BJP) over demonetisation and atrocities on Dalits.
In a veiled reference to Prime Minister Narendra Modi, she said, "People have made their mind to send their adopted son back to Gujarat and to bless their very own daughter (Mayawati) again."
Cautioning Dalits, her core constituency, she reiterated that the BJP was following the RSS agenda and was planning to scrap reservation in jobs and educational institutions. The task will become easier if the BJP wins the UP election, she said.
She also said Muslims were feeling insecure.
"Since communal and radical forces have gained strength in the country, Muslims are being targeted on issues like love jihad, cow and nationalism. The way Muslims are being associated with terrorism is a matter of grave concern," she said.
Mayawati said her party was against the BJP's stand on triple talaq.
Wooing Muslim voters, she said that her government will review the cases in which innocent people of the community were jailed and will pave the way for their release.
She claimed the BJP, its leaders and big corporate groups were allowed to park their black money safely about 10 months before demonetisation was announced by the Prime Minister.
Accusing Modi of misguiding people with his statement that successive governments of rival parties discriminated in power distribution and water supply among Muslims and Hindus during their respective festivals in UP, she said that during her four tenures as CM, people from both communities were provided power and water on their festivals.
"This is the major reason why not even a single riot took place during my four tenures in UP," she said.
She said all the 'SP goons and the corrupt' would be sent to jail if the BSP came to power.
At another rally in Ballia, Mayawati accused Modi and BJP chief Amit Shah of "dreaming of destroying UP", saying the public was disenchanted due to "wrong policies" of the Centre and the SP government in Uttar Pradesh.
She also ridiculed the BJP for contesting the elections without a chief ministerial candidate. "On the other hand, the SP's CM face is facing problems of poor law and order and spurt in crime. As a result of which, the SP CM's face has become tainted," she said.
The BSP chief also took a jibe at SP founder and patron Mulayam Singh Yadav saying, "He seems to have been affected by Putra-Moh (blind love for son), and has even insulted his brother Shivpal."
(With inputs from PTI)
Close