Punjab election results: Dalits shun Akali Dal to power Congress to victory
Updated on Mar 13, 2017 01:28 AM IST
The Dalits, who form one-third of Punjab's population deserted the SAD-BJP combine to throw their lot behind Congress, paving the way for the party's win in Doaba, which is home to a large chunk of the Dalit population.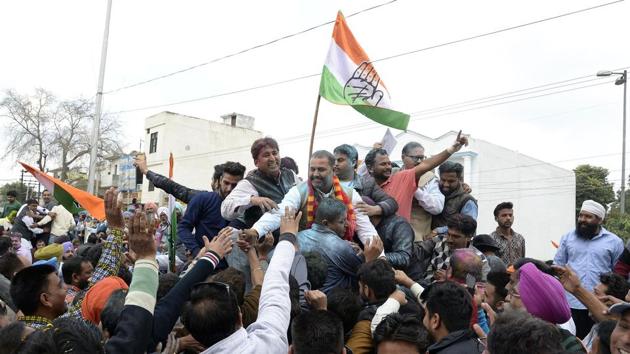 Hindustan Times, Jalandhar |
Ravinder Vasudev
The Congress' spectacular surge in Punjab was powered by Dalits, who comprise a third of the state and deserted the ruling Akali Dal following a string of caste atrocities.
The election also marked the return of the scheduled-caste community to the Congress fold after more than a decade and the complete collapse of the Bahujan Samaj Party (BSP).
The Congress won almost two-thirds of the 34 reserved constituencies while the Akali Dal-BJP secured just four seats – indicating the saffron party's strategy of appointing Dalit leader Vijay Sampla as chief had failed.
In the Dalit stronghold of Doaba where the scheduled-caste community has more than 40% presence in each of the 23 seats, the Congress won 14.
"The Dalits voted out Akalis for the high-handedness of their goons, be it fight for lands in villages or attacks on them," said Dalit intellectual Des Raj Kalli. In 2012, the Akalis had won 24 of these reserved constituencies.
Of Doaba's eight reserved segments, the SAD-BJP won four -- Adampur, Phillaur, Phagwara and Banga. SAD's experiment to give ticket to a Dalit candidate from a non-reserved segment of Kapurthala that has a high population of Valmikis backfired and the Congress won by a huge margin of 28,817 votes.
Dalits also appeared to have rejected the Aam Aadmi Party, despite the fledging outfit's repeated overtures and promise to appoint a scheduled-caste candidate as deputy chief minister. The AAP won just 10 reserved constituencies – all of them in the southern Malwa region where the party had heavily invested its resources. Experts say incidents such as the chopping of limbs of a Dalit man and the killing of several Dalits in land disputes in the last two years made the community move away from the Akalis.
But what was more remarkable, analysts added, was the decimation of the BSP – known as a party of Dalits – that crashed to just 1% voteshare, helping the Congress onslaught.
"The disillusionment of the Dalits with the BSP too is now complete as they feel the party can never be their voice and voting for it means helping the SAD-BJP win," said Dalit writer Des Raj Kalli.
None of the BSP candidates could get past 15,000 votes except in Phillaur where former state party chief Avtar Singh Karimpuri polled 28,065 votes – only to finish fourth.
In 2012, 27 candidates of the BSP had got more than 15,000 votes, and seven crossed the 20,000 mark – directly hurting the Congress prospects in these seats.
The Congress was also helped by the Dalit-dominated Dera Sachkhand Ballan, which backed Amarinder Singh as chief minister.
Personalise your news feed. Follow trending topics