Like Father, Unlike Son: Shooting star Abbas Ansari wants to salvage family name
Updated on Feb 14, 2017 06:37 PM IST
Unlike Mukhtar Ansari, his convent-educated son Abbas Ansari has no criminal record. He is suave, speaks fluent English, and has a degree in business management.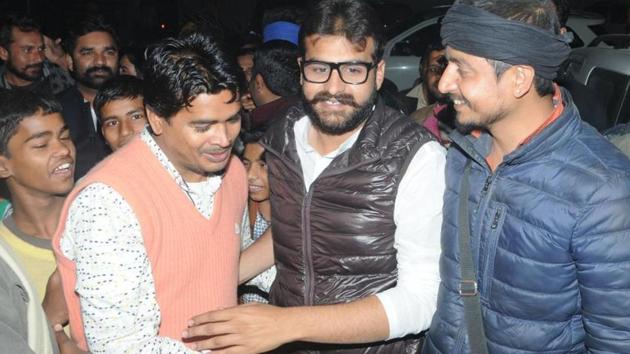 The father is accused of pulling the gun on people; the son is applauded for shooting skits at international competitions and bringing glory to the nation.
The contrast wasn't lost as jailed -politician Mukhtar Ansari's 25-year-old son, Abbas Ansari, a four-time national shooting champion, plunged into electoral politics to salvage the tarnished family name.
He is the Bahujan Samaj Party (BSP) candidate for the Ghosi assembly constituency in Mau district, which votes on March 4 in the penultimate round of the seven-phase elections in Uttar Pradesh.
"I never wanted to get into politics, it's true that I want to serve people but never saw myself contesting an election," he said.
Read more | Uttar Pradesh elections: Mukhtar Ansari joins BSP, to contest from Mau
His dad Mukhtar has over 40 criminal cases against him, including murder and kidnapping. He is a prime accused in the 2005 murder of BJP legislator Krishnanand Rai, for which he is lodged in Agra jail.
He is the founder of Qaumi Ekta Dal, which merged with the BSP last month. He will contest on a BSP ticket from the Mau Cantonment seat, which he won in 2012.
Unlike Mukhtar, his convent-educated son has no criminal record. He is suave, speaks fluent English, and has a degree in business management.
The tag that he is the son of a tainted politician fails to faze him. Rather, he idolises his father.
"My father is my best friend, I am lucky to have good parenting, where I respect and consider everyone as equal," he said, underscoring that he got the opportunity to contest elections because of his father's popularity.
Abbas achieved his biggest feats with a shotgun, though. His passion for hunting helped him hone his shooting skills at a young age. He fired his first shot at a national competition in 2011 and established himself as one the world's top 10 skeet shooters in subsequent world cups in Germany and Finland.
But his sporting career went into tailspin after he met with a road accident in 2014, keeping him out of the shooting range for almost a year. That scuttled his hopes for a berth in the 2016 Rio Olympics.
Read more | UP Elections: Mukhtar Ansari's inclusion exposes BSP's mentality says Samajwadi Party
The injury layoff prompted him to look at politics.
"Missing Rio was a huge setback. While I stayed at home and continued with my education, I also got time to visit my father's constituency, met people and did all the social activities on his behalf."
Public service is an inherited gene as he belongs to a family of political leaders. His great grandfather, Mukhtar Ahmed Ansari, was a president of the Indian National Congress and the Muslim League during India's freedom struggle. His uncles — Afzal Ansari and Sibgatullah Ansari — are active politicians too.
If he wins, Abbas would be the youngest lawmaker in UP. He already has set clear goals for himself: to eradicate the caste system prevalent in the rural belt, and to solve the electricity and water problems in his constituency.
Having started his campaign only on February 2, Abbas has already toured 87 villages in a gruelling 20-hour schedule every day.
Though he is confident of a victory in Ghosi, which elected an SP candidate last time, Abbas will have to watch for what the opposition throws at him. His father's chequered political and criminal past could be used against him by his SP rivals.
But he is unfazed. "I am not giving speeches, just going to villages and campaigning for the BSP by meeting people, having tea with them, sharing meals and discussing their problems."
Clearly, it's new learning curve for the ace shooter. Whether he makes his mark in politics or not, he has his eyes set on qualifying for the 2020 Tokyo Olympics.
Author's twitter handle is @rizviuzair
Personalise your news feed. Follow trending topics