Weekly Tarot Card Readings: Tarot prediction for January 08 to January 14, 2023
Jan 08, 2023 01:00 AM IST
Weekly Tarot Card Readings: Tarot prediction for January 08 to January 14, 2023. What do the cards have in store for Leo, Virgo, Scorpio, Sagittarius and other zodiac signs for this week?
ARIES (Mar 21-Apr 20)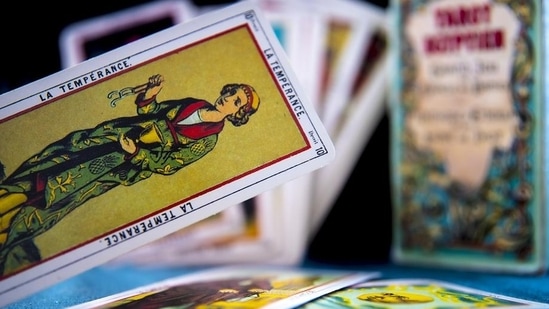 Love: Two of Cups
Mood: The Magician
Career: King of Wands
Aries might have more than one reason to celebrate this week. Arians who lead start-ups can also expect a prosperous future. The time you devote to your children will significantly impact their happiness. Your chances of making a long-lasting connection with an old friend are high right now. Marriage adds a new dimension to relationships. Some unsettling news on the work front may give you to regroup your resources. Due to unforeseen circumstances, some students may need to put their studies on hold. The new building or property deal may remain a fruitful investment area. You may miss your social obligations. You may spend some in silence, resting and rejuvenating.
Lucky Number: 11
Lucky Colour: Brown
TAURUS (Apr 21-May 20)
Love: The Star
Mood: Three of Wands
Career: Two of Coins
This week, Taureans will feel motivated to take on more work responsibilities. Having supportive parents would help a child recognize their own strengths and reach their full potential. Entrepreneurs can grow their companies into profitable enterprises. With holistic care, you can find inner peace and harmony at last. Keeping a positive outlook makes getting rid of negative emotions much easier. When you and your potential partner click, your love life takes a positive turn. You're standing in the community of professionals and among your peers will improve. Some students could benefit greatly from counselling from a professional career counsellor. Minor disagreements can derail a joint real estate investment. Those who take a religious trip or pilgrimage may return home with a deep sense of fulfilment.
Lucky Number: 2
Lucky Colour: Off White
GEMINI (May 21-Jun 21)
Love: The World
Mood: Three of Wands
Career: Two of Coins
Geminis should have a decent week. People may be eager to collaborate with you and put their faith in you to handle important tasks at work. You are likely to have the resources to make sound decisions about your money. Thoughts of a new romance may make your heart soar. Maintaining a high level of physical fitness requires a steady commitment to the process. There will be good outcomes from any business trips you take. Students who have struggled in college can expect to see positive results in the near future. You may get a new property at a bargain price. Recent disagreements amongst relatives are cause for concern and are likely to keep things tense at home for some time to come.
Lucky Number: 3
Lucky Colour: Peach
CANCER (Jun22-Jul 22)
Love: Temperance
Mood: Ten of Coins
Career: Six of Swords
This week may be good if you're working on improving your financial stability. If you want to advance in your career, you need to get serious and make some choices. This is a great week for native Cancers in terms of romance. Your family's harmony may suffer this week despite this. Taking charge at home could greatly improve relationships with loved ones. It is recommended that people adopt healthier eating habits to boost their immune systems. This week holds the prospect of reuniting with an old pal and the promise of lively get-togethers. Students may seek the advice of a professional for guidance on a private matter. Investing in property may benefit your financial situation in the long run.
Lucky Number: 15
Lucky Colour: Red
LEO (Jul 23-Aug 23)
Love: Ten of Wands
Mood: The Hierophant
Career: Two of Cups
Your professional fortunes could improve this coming week. Careful consideration of paperwork might help you increase productivity. Leos can restore peace by adopting a proactive and creative mindset when dealing with domestic issues. In business, it's smart to trust your instincts before making any promises. You can expect to maintain a healthy body. Renting a room in your home or the entire house can significantly boost your financial stability. Exploring a foreign land can be an unforgettable experience with the right company. However, your doubts will prevent you from trusting your love companion completely. Think things over before you speak this week because love and luck are not on your side.
Lucky Number: 18
Lucky Colour: Yellow
VIRGO (Aug 24-Sept 23)
Love: King of Coins
Mood: Six of Wands
Career: The Moon
Virgos, this week, should work on maintaining focus while also taking it easy. Your efforts will not only hasten the completion of the project but also elevate your status in your industry. Your ability to weather business storms will improve as your financial situation improves. Some Virgos may have celebrations at home as young ones bring the good news of success or matrimony. Keeping cool in romantic situations is essential for keeping the romance alive. Studying this week will yield better results for those who put in the extra effort. You'll make strengthening your muscles and stamina a top priority. You may make a neat profit on a trip you undertake for work. Those who had invested in real estate previously will start seeing returns.
Lucky Number: 22
Lucky Colour: Maroon
LIBRA (Sept 24-Oct 23)
Love: The Emperor
Mood: The Fool
Career: The Lovers
Making some changes to your approach could help you save money. This week at work, it's important to keep an eye on your competition. Don't be arrogant or dismissive of the thoughts of your coworkers. You feel that a fresh romantic connection will bring you happiness. Enjoyable and productive activities can be part of a relaxation routine. Maintain your normal healthy eating and exercise routine, and try not to worry too much. Unnecessary trips can amplify the stress of life. The student's health may prevent them from concentrating on their exams. You could put your money into real estate, which is a relatively secure investment. A vibrant social life, away from the stresses of the office, is in store for native Libras.
Lucky Number: 15
Lucky Colour: Purple
SCORPIO (Oct 24-Nov 22)
Love: Eight of Cups
Mood: Two of Swords
Career: Tower
Career-wise, Scorpio natives might enter a fruitful period. If you ask elders for advice, they may be able to shed light on your future. If you have connections abroad, you have a good shot at reaping monetary rewards. Romantically inclined individuals may feel a spark of attraction for a new acquaintance. You might have a week where you don't have to worry about your health. Those who put in the time and effort to prepare will do well on tests and exams. Furthermore, they might be accepted to the university of their choice. You should not put too much money into the property you like; proceed patiently. Get informed and seek advice from professionals. To have a pleasant and stress-free adventure trip, careful preparation is required.
Lucky Number: 18
Lucky Colour: Brown
SAGITTARIUS (Nov 23-Dec 21)
Love: The Hanged Man
Mood: The Chariot
Career: Ten of Coins
Sagittarians may experience a surge of confidence that will inspire them to bring joy to those around them. You may get active on the dating scene. Get regular exercise and a healthy diet underway as soon as possible. Getting noticed on the professional front may require some work on your part. There's also a chance that this week's cash flow won't be sufficient. You won't have any spare cash to put away, and you may also have to deal with some unexpected bills. Students have a good chance of performing well on admissions exams. Just the idea of taking time off will rejuvenate your spirits. So plan a trip soon. This week is a good time to look for farmland and possibly make a purchase.
Lucky Number: 8
Lucky Colour: Electric Grey
CAPRICORN (Dec 22-Jan 21)
Love: Five of Coins
Mood: The Star
Career: Two of Swords
Working professionals will have much better insight into a newly created position or project. Collaboration is the key to success in the business world. Don't act surprised if your significant other initiates a date night. A glass of homemade coconut water or fresh fruit juice is a great way to kick off the week. There's a chance you can enhance your health and happiness. Your efforts to broaden your knowledge through distance education will bear fruit. Learn a new language or hone your existing ones by enrolling in a class. The family estate may become a major financial asset. Keep a good mood and a flexible attitude at home, too. An unyielding demeanour would only cause more trouble at home.
Lucky Number: 1
Lucky Colour: Magenta
AQUARIUS (Jan 22-Feb 19)
Love: The Hanged Man
Mood: Judgment
Career: The Sun
This week, Aquarians might need to put in a little extra work in order to accomplish their goals. It's worth a shot to alter your behaviour at the office to foster harmony and teamwork amongst everyone there. You can earn extra money on bets you made in the past. Efforts to restore peace at home might be fruitful. You and your significant other may discover that focusing on emotional needs brings you great joy. Maintaining a regular exercise routine and eating a diet rich in protein and other nutrients will help you get in shape. Now is a fantastic time to sign up for a programme to help you develop your skillset. The possibilities of receiving an expected inheritance from a relative are high. When dealing with detractors, you'll need to employ subtlety.
Lucky Number: 4
Lucky Colour: Peach
PISCES (Feb 20-Mar 20)
Love: Five of Swords
Mood: The Hierophant
Career: The High Priestess
It should be a smooth week at the office for Pisceans. The workplace is probably going to be steady, and your ideas will probably be put into action. This is a great time to do business, which could result in significant revenue increases. Listening to one's parents was a surefire way to ensure future success. You should work on developing your strength and stamina, as these are valuable traits. Married couples may have conflicts with their spouse's relatives. The concept of "luck" as the sole factor in a student's success will be foolhardy. Business trips could be an opportunity for you to earn some money. It is a good time to invest in real estate.
Lucky Number: 6
Lucky Colour: Green
Celeb birthday - Hrithik Roshan, January 10, Capricorn
"Exciting news! Hindustan Times is now on WhatsApp Channels
Subscribe today by clicking the link and stay updated with the latest news!"
Click here!