Weekly Tarot Card Readings: Tarot prediction for January 29 to February 4, 2023
Jan 29, 2023 09:07 AM IST
Weekly Tarot Card Readings: Tarot prediction for January 29 to February 4, 2023. What do the cards have in store for Leo, Virgo, Scorpio, Sagittarius and other zodiac signs for this week?
ARIES (Mar 21-Apr 20)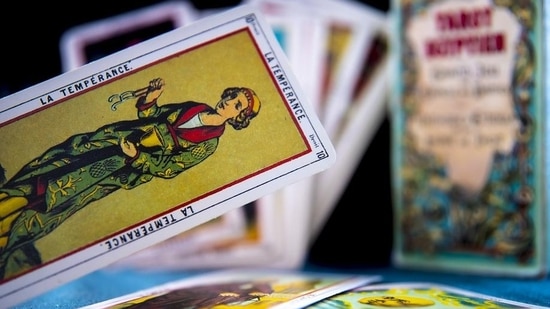 Love: The Sun
Mood: Temperance
Career: The Hierophant
The stars align in Aries' favour this week. There's a chance that you'll find some unexpected financial success early in the week. The business partnership you've been proposing may be approved this week. Every professional challenge would not match your lightning-fast decision-making and impeccable logic. This week, at least at home, should be quite relaxing and stress-free. If you work consistently and diligently, you can achieve health stability. Some of the changes may be positive for those who are planning a wedding. Aries students may maintain their focus and do well in school. Students can anticipate high performance on competitive exams. You have a strong chance of succeeding in a legal proceeding. A spontaneous outing can be planned.
Lucky Number: 15
Lucky Colour: Light Grey
TAURUS (Apr 21-May 20)
Love: Devil
Mood: The World
Career: The Star
This week, more than ever, Taurians must keep a sunny disposition. You will keep your ambition alive while at work. Do something courageous for your career this week, and forget your worries. Deals that boost the finances of businesspeople are possible. Your partner's career prospects improve with your assistance. Regular yoga or other forms of exercise has been shown to improve mental and physical well-being. At the moment, social interactions may not be optimal. Your schedule may be completely packed between work and caring for your loved ones. It is up to you to resolve the issue with your relative. You need to take extra precautions when driving. Things like traffic and detours could throw off your plans. There are renters available who will meet a landlord's requirements. Students may be accepted to highly competitive programmes.
Lucky Number: 1
Lucky Colour: Red
GEMINI (May 21-Jun 21)
Love: Page of Swords
Mood: Three of Coins
Career: Eight of Cups
Geminis can anticipate a fruitful business week. You can get through anything by relying on your physical strength. Maintaining your typical workday rhythms will be easy on the professional front. The people closest to you will always have your back and cheer you on. Students who put in the time and effort will succeed in whatever they study. Time to relax, plan a getaway, or take some time off by the weekend. It's crucial that you take breaks from your work from time to time. Those in the market for a house may have luck finding a great option that doesn't break the bank. Keep your diet in mind this week. Eating a healthy, well-balanced diet is the best way to feel revitalised and refreshed.
Lucky Number: 11
Lucky Colour: Brown
CANCER (Jun22-Jul 22)
Love: Four of Coins
Mood: The Empress
Career: Judgement
Now is the time to do it if you've been thinking about starting something new, whether a hobby or a new job. The professional landscape may shift and improve for you this week. It could pay off handsomely if you're willing to take some financial risks. You will maintain your usual level of confidence and upbeat demeanour at home. Stamina can be maintained or even increased with regular exercise and other forms of physical activity, especially in natural settings. Students who rearrange their study schedules may benefit. This week may be favourable for finalising land transactions and investing in real estate. Find out more about the history of the destination you want to visit. You could have a terrible time on your trip if you don't plan.
Lucky Number: 17
Lucky Colour: Green
LEO (Jul 23-Aug 23)
Love: Five of Swords
Mood: The Magician
Career: The Hanged Man
After a hectic start, the week may end very well for Leos. Extreme competition and relentless pursuit of improvement are necessities for maintaining your lead at work. Those already in business will see their success rate rise, translating to more money in their pockets. Get-togethers with friends and family should be prioritised this week. You should avoid anything that might alter your mood for the worse. You should devote your full attention to those closest to you, especially your partner. A trip abroad can be life-changing for some people. Possibility of receiving a lucrative offer on the house this week. Students will be better able to concentrate and form good study routines as a result.
Lucky Number: 22
Lucky Colour: Red
VIRGO (Aug 24-Sept 23)
Love: The Strength
Mood: The Tower
Career: Chariot
Virgos should have a good week due to favourable conditions. You may be able to make an impact on the company at various levels thanks to your strong leadership skills. If you want to succeed in business, you need to develop your critical listening skills. For your own benefit, listen to the guidance of your elderly family members. You have a tendency to lose your temper when love life is challenging. Try to control your anger and channel it into something useful. You may feel more energised once you learn to listen to your body. It's likely that you and your pals enjoy long car trips. The rapid ascent in land prices has made selling a plot potentially lucrative. Your choices on the academic front may improve your showing.
Lucky Number: 8
Lucky Colour: Magenta
LIBRA (Sept 24-Oct 23)
Love: Eight of Cups
Mood: The Moon
Career: The Tower
Libras may have a productive and eventful week. You've got a jam-packed schedule this week with all the meetings, presentations, and other events you're expected to
attend. Prospective business owners should have no trouble securing funding. Maintain calm and be there for your loved ones at home. If the romantic front continues to swell, keeping your cool is crucial. The students will do well on exams and learn what it's like to achieve their goals. The results you achieve will be the direct result of your efforts and hard work. A good profit can likely be made by those who are looking to unload their unwanted items. Investing time and energy before departing for an international trip will pay off in spades once you arrive.
Lucky Number: 2
Lucky Colour: Sky Blue
SCORPIO (Oct 24-Nov 22)
Love: Nine of Cups
Mood: Strength
Career: Hierophant
Scorpios might find a nice balance between work and home life this week. Opportunities to grow professionally and personally may present themselves. Collaborating with your colleagues will allow you to clear the clutter from your workspace. The family unit will be safe, and there is hope for the future in the form of inheritance. In times of crisis, the people closest to you will be the first to offer assistance. Your consistent income will allow you to keep on having fun this week. The future is uncertain for Scorpios in love. Your bond may become frayed after encountering some difficulties. A person fresh from college may be itching for some sort of adventure. Visitors looking to save money during the holidays may come across tempting deals.
Lucky Number: 6
Lucky Colour: Purple
SAGITTARIUS (Nov 23-Dec 21)
Love: The Fool
Mood: Knight of Coins
Career: Two of Wands
This week could be a big one for Sagittarians. You may finish everything on schedule without compromising your standards and using your best efforts. You should be careful with your finances because of the potential for unexpected expenses. It's possible to reignite the passion in a long-smouldering marriage. Sagittarians can rely on the advice of their elders when confronted with a challenging family matter. You'll keep your immune system functioning at peak levels, and you might not even get sick. If students can eliminate distractions, they will be more productive in the
classroom. Sometimes signing legal documents and agreements requires a quick business trip. Volunteerism and acts of kindness are needed now more than ever.
Lucky Number: 3
Lucky Colour: Yellow
CAPRICORN (Dec 22-Jan 21)
Love: King of Wands
Mood: The Star
Career: The Emperor
Capricorns may have a more open and risk-taking disposition this week. There will be good things happening for you at work. You are determined and can find meaning in the routine tasks that must be completed to keep the home front running smoothly. Those thinking about going abroad for education soon will find that conditions are favourable. This week is perfect for introspection. A trip to a peaceful destination can do wonders for helping you gather your thoughts. Don't rush into anything if you've been waiting a while; you never know when something unexpected might come up. Be careful when dealing with money. To avoid a financial rut, cutting costs is a good idea. It's especially important to keep a positive outlook when things get rough.
Lucky Number: 11
Lucky Colour: Peach
AQUARIUS (Jan 22-Feb 19)
Love: The Magician
Mood: The Lovers
Career: Three of Swords
This week should be quite fruitful for Aquarians. So long as earnings are high and costs are low, the financial outlook is bright. It's also a good time to invest in real estate. There are promising signs that domestic stability and safety will hold. The bonds formed between young members of a family are especially strong and a source of joy for the whole family. The emergence of romantic feelings for another person is often unexpected. It's a great opportunity to assess your current situation and consider how you might improve it in the future. Maintain regular communication with company management. Stay calm if your efforts are met with hostility. This is a once-in-a-lifetime chance for students interested in conducting original research. Grab the chance to excel.
Lucky Number: 4
Lucky Colour: White
PISCES (Feb 20-Mar 20)
Love: The Star
Mood: Knight of Swords
Career: The Hermit
Staying the course will pay off for Pisceans in ways they can't even imagine now. Professional decisions are easier to make when you have all the information. Start-up owners will need to reevaluate their strategies and develop fresh solutions. There's hope for the continued prosperity of family harmony. Part-time jobs are a good option for college-bound students because of their ability to help offset expenses. Focus on your health by prioritising a balanced diet and regular exercise. In return for your good care, your body may reward you in kind. Pisceans should not enter into business partnerships. It seems risky and could cause issues in the future. Going to a museum or theme park as a family will be a life-changing experience for everyone.
Lucky Number: 6
Lucky Colour: Silver
Exciting news! Mint is now on WhatsApp Channels
Subscribe today by clicking the link and stay updated with the latest financial insights!
Click here!