Deendayal Upadhyay's life and teachings to be taught in MP schools
After Rajasthan, Madhya Pradesh becomes the second BJP-ruled state to ask schools to include the life and teachings of Deendayal Upadhayay in their syllabus.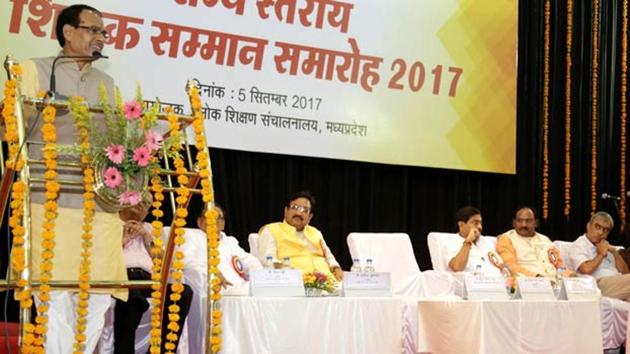 Updated on Sep 05, 2017 08:48 PM IST
BJP ideologue Pandit Deendayal Upadhyaya will now become part of school syllabus in Madhya Pradesh.
Addressing teachers and students at a programme organised on the occasion of Teachers' Day on Tuesday, Madhya Pradesh school education minister Vijay Shah announced that life and teachings of Upadhyaya would be taught to students to motivate them to do better in life.
The minister's diktat covers both government and private schools. The exercise will start from class 1 and will continue till class 10. New books on Upadhaya will be introduced in the syllabus for different classes.
Shah also said that students would be taught about the history of Tri-Colour and the flag code to infuse a sense of respect in them about the national flag.
On the occasion, teachers were felicitated by chief minister Shivraj Singh Chouhan.
Earlier, the Madhya Pradesh school education department had asked government schools to display the portraits of Upadhyaya and Swami Vivekanand along with the pictures of President, Prime Minister and chief minister on Teachers' Day.
Madhya Pradesh is not the first BJP-ruled state to push Upadhyaya into school syllabus. The Rajasthan government had done it earlier while the Uttar Pradesh government organised a general knowledge test on the late Jan Sangh leader.
.
--eom--
Close Story
Personalise your news feed. Follow trending topics