Forest dept temporarily suspends search for tiger T1 near Bhopal
Published on Nov 19, 2015 01:08 PM IST
The search for tiger 'T1' has been temporarily suspended as it remained untraceable in Bhopal's Kaliasot-Kerwa area for last four days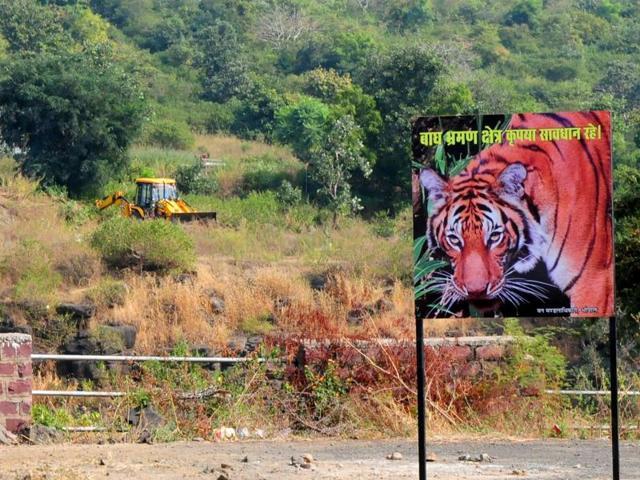 Hindustan Times |
, Bhopal
HT Correspondent
The search for tiger 'T1' has been temporarily suspended as it remained untraceable in Bhopal's Kaliasot-Kerwa area for last four days. The search operation for T1 was launched last Thursday.
A senior forest official, however, said the search for the tiger would resume if any pugmark or sighting is reported in the coming days. "If we get the tiger's pug marks or locate it, then we will resume the operation.
4 elephants in the area to keep tab on tiger movement
In the meantime, four elephants are in the area keeping a tab on possible tiger movement close to residential areas in Bhopal," he said. Chances were that the tiger had returned deep into the forest, the official added.
The forest department had earlier speculated that bursting of crackers during Diwali possibly scared T1 to go deep into the forest. Six CCTV cameras had been installed in the Kaliasot-Kerwa area to track the tiger.
Wildlife officials had said tigers were straying near residential areas in Bhopal as around six big cats were trying to establish new territories outside the Ratapani wildlife sanctuary.
On whether the operation was suspended after the hearing in the high court where the strategy to deal with tiger movement came into question, the official asserted that it was called off as the tiger was not traced late till Wednesday.
Bushes, wild growth being burnt in the area
Meanwhile, bushes and other wild growth close to the road in Kaliasot were burnt on Wednesday to scare away the big cat for preventing any chance of man-animal conflict. JCB machines were deployed to uproot trees close to the road in the area.
But wildlife activist Ajay Dubey told HT that the government was damaging the habitat of tigers by burning bushes and uprooting trees.
"Along with photographs, I am making a written complaint to the National Tiger Conservation Authority that tiger habitat is being destroyed near Bhopal and it should send a team to monitor the steps being taken here," he said.
Last month, the National Green Tribunal (NGT) had asked the state government to inform it about the steps taken to check man-tiger conflict in Bhopal. It had also directed the state government and the district administration to ensure that tigers are not disturbed.
Personalise your news feed. Follow trending topics