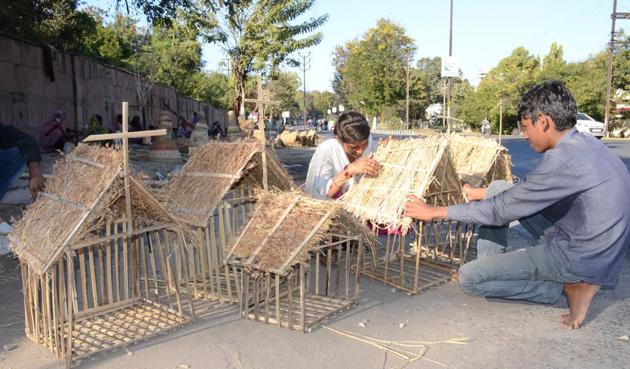 MP: Modifying art skills to survive currency crisis
PUBLISHED ON DEC 26, 2016 01:01 PM IST
Earlier they would make bamboo ladders to earn their livelihood but now they have modified their skills a bit and started making Christmas huts and stars to make their both ends meet, thanks to cash crunch post demonetisation.
A group of people of Bansod community, who are facing a lot of difficulties due to note ban after November 8, have started making these new products in large numbers using bamboos and thatches for sell.
"After demonetization of Rs 500 and Rs 1,000 currency notes, the construction work has come to halt in the city, dropping the sale of bamboo ladders. For the past one month, we are facing hardships. As we belong to a community which is treated as untouchable in the society, we don't get work as labourers too," said Radha Banskar.
Community members now realized that bamboo is the sole thing for them to earn livelihood so they decided to modify their art skills and celebrate festivals of all religions with great fervor.
'In case of poor sale we can remodel our products'
"We organised training for each other and tried to make new products from thatch and bamboo," said Rajeev Banskar, a community member, adding they started by making Ravana effigies and earned lot of profit by selling them. The best thing about our products is that in case of poor sale we can remodel them (products) into another forms, he added.
Noticing that during Christmas and New Year celebrations showrooms are decked up with lights, fancy products, stars, Christmas trees and other things, community members have decided to take advantage of it to earn some money.
'Our products are a good option for those who don't have much money'
"Our products are not fancy enough to attract rich people but for those who have not much money to spend due to demonetisation, our products are a good option as they cost around Rs 100 to Rs 250 per piece," said Santosh Bai.
"A few years ago, a Christian group had placed an order of thatched and bamboo hut for a tableau. Some people succeeded in make them. This year, we made a lot of huts and also made tried make stars," she added.
Children of this community are excited about the festival of Christmas and hope profits can help their parents buy new clothes for them in New Year. However they didn't know much about the importance of this festival.
"On Christmas, people worship Jesus Christ. I don't know much about it but it will help my family earn some money," said 12-year-old Rahul Verma.
Close