Padma Shri honour: Tribal painter helped world see modernity through Gond art
Renowned Gond tribal painter Bhajju Shyam who was honoured with Padma Shri this year, recalls an incident with a laughter, which proved a turning point in his life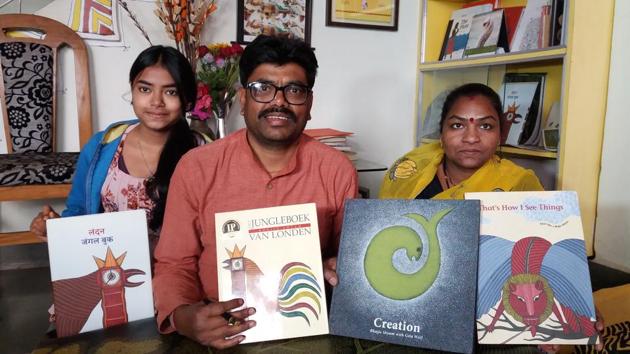 Updated on Jan 27, 2018 09:39 PM IST
Renowned Gond tribal painter Bhajju Shyam who was honoured with Padma Shri this year, recalls an incident with a laughter, which proved a turning point in his life.
"Had I not slept that night as a watchman, I would perhaps still have been a watchman. In the mid-1990s, when I came to Bhopal from my native district Dindori, I started working as a watchman at IIFM in Bhopal's Nehru Nagar area. After three months as a watchman, I was caught sleeping at 4 am one day. My payment was stopped. I was angry and left the job", says Bhajju Shyam in an interview to HT.
Shyam's struggle for a better life continued. However, after leaving the job of the watchman, the 1971-born Shyam started working as a labourer, laying underground electric wires in Bhopal.
"I had to do something for earning a livelihood. Before coming to Bhopal, I had worked as a labourer in many districts. I have planted trees in the jungles of Amarkantak as a labourer during a tree plantation project. I was paid Rs 2 for every sapling I planted", he says.
So when did his journey as a tribal painter start?
"I was slogging as a labourer laying pipes and wires. It was during that time in the mid-90s when my uncle- Jangarh Singh Shyam, a noted Gond tribal artist, who worked at Bharat Bhawan, Bhopal, told me why didn't I fill colours in his Gond paintings?"
From there on, says Shyam, he started dabbling with the world of colours and studied the art of Gond tribal paintings.
"Actually, I deeply studied my tribal Gond traditions, our folk tales, tribal songs, our stories regarding how this world, its people and animals were created. All this is what has inspired me to become a better painter, see world through a Gond-art lens and put it on the artistic landscape of the world ", he says, adding, "It has taken over two decades of struggles and hard work to get recognition for myself and Gond art as a whole at the global level."
Shyam said if he had become a noted tribal artist or won the Padma Shri, it was all because of the blessings of his uncle and Guru Jangarh Singh Shyam, who encouraged his journey as a tribal painter.
"I dedicate this Padma Shri award to my uncle and Guru. It is because of his backing and encouragement, I have been able to put the Gond art on the world map", he says.
Shyam said in 2001-02, he got the opportunity to paint the murals of a restaurant in London. "I went to London. It was my first trip to a foreign country. It was all new to me. I could see everything in stark contrast to my past. I was filled with wonder and I could make strange connections with my Gond beliefs. This novel experience helped me paint a series of paintings, which were later published in the book 'London Jungle Book' in 2004," he added.
This work, says Shyam, has brought him a lot of recognition and forced artists around the world to look at the Gond art and understand its unique significance in the world art. "After my London experience, I have illustrated and contributed to ten more books", he said.
Shyam said, "London Jungle Book has been published in five foreign languages so far. And the original paintings of the book have been exhibited in the art galleries of many countries like Italy, Germany, Russia, Holland and so on. I have also been able to travel to countries like France, Italy, Kyrgyzstan, Netherlands, Germany and so on to see art there and showcase the legacy of own tribal artistic tradition."
Close Story
Personalise your news feed. Follow trending topics