Swachh Bharat Organic fertiliser from offering at temples to depollute water bodies and keep city clean
Dec 06, 2017 10:18 PM IST
Neemuch chief municipal officer gets flowers, coconuts etc offered in the temples collected on municipal corporation's vehicles and dump the same in two large pits dug on the premises of his official bungalow to make organic fertiliser
In the city of Neemuch, about 425 kilometers north west of Bhopal, the chief municipal officer (CMO) over there chose to add another dimension to Swachh Bharat campaign when he saw tonnes of flowers and coconuts offered to deities in more than 50 main temples in the city, going waste rather polluting the water bodies and adding to incleanliness in the city.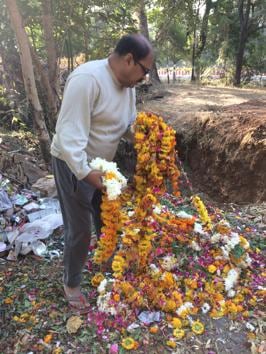 He gets flowers, coconuts etc offered in the temples collected on municipal corporation's vehicles and dump the same in two large pits dug on the premises of his official bungalow to make organic fertiliser.
Inspired by Prime Minister Narendra Modi's Swachh Bharat campaign Sandesh Gupta, the CMO, says every day people offer flowers and coconuts big and small temples of the city and at the end of the day the flowers and coconut fibers are dumped around the premises. So he took it upon himself to get all of it collected and carted to his house where he has dug two big pits with the help of national agricultural cooperative marketing federation (NAFED) where he puts it along with dry neem leaves to make fertilizer.
Organic fertilizer sells at a premium and Gupta is using around one quintal of flowers and coconut fiber to make the fertiliser. This adds to the revenue of the municipal corporation too.
Historically, Neemuch gets its name from Neem trees abound in the city. Neem leaves too add to incleanliness in the city but it is of great use as an ingredient of organic fertiliser. Gupta gets collected the neem leaves too lying on the streets and put it in the pits with flowers and coconuts.
"I do the mixing and putting it in the pits by myself. I am now trying to get the other temples in nearby town and cities to join in so that more flowers and coconut fibers can be used," he says.
The entire city produces around 60 tonnes of dry and wet garbage and Gupta argues that the city would be much cleaner and healthier if the garbage is disposed at the source itself.
"For instance, the vegetable mandi produces around 10 quintals of garbage and now I have persuaded the 400 odd traders to put their waste in a pit and thus organic fertilizer is being produced over there. This can be replicated everywhere in localities," Gupta argues.
Neemuch municipality chairman Rakesh Jain has only praise for the work being done by the CMO.
"It is helping us in keeping the city clear and we will package and sell the organic fertilizers and hopefully made a bundle."
Amit Sharma, a social activist in Neemuch says the cleanliness drive has assumed a different dimension and proportion in Neemuch and hopes that this would be known as 'Neemuch model' in coming days and replicated in other parts of the state too, if not the country to earn the district a great name.