Aamir Khan, wife Kiran Rao and son Azad dress up as Asterix characters for a party. See pics
Nov 26, 2018 10:09 AM IST
Aamir Khan and his family dressed up the characters of popular comic book, Asterix for a special party with the kids. Even their dog got to play dress up! See pics here.
Actor Aamir Khan loves to play dress up even when he is not playing an alien or a pirate in his movies. He took to Twitter to share a bunch of photos from a kids' party in which him and his family dressed up as the characters of popular comic book, Asterix.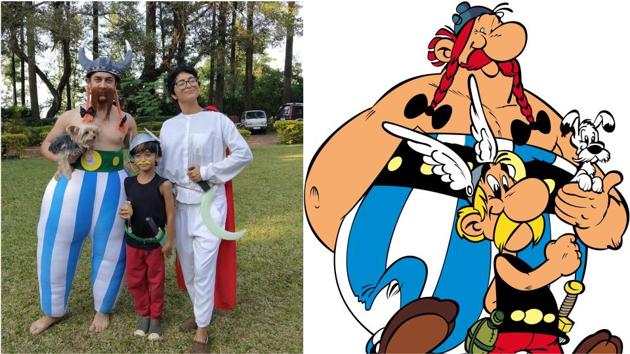 Aamir is seen dressed as Obelix, complete with blown-up white and blue striped pants and the horned helmet. His son Azad is seen as the titular character Asterix with his black shirt, red pants and a helmet with white wings. Aamir's wife and film producer Kiran Rao is dressed as druid Getafix, in her white outfit, red cape and the moon-shaped dagger. Aamir also has their little dog in his arms who is supposedly playing Asterix's dog, Dogmatix.
"Obelix, Dogmatix, Asterix and Getafix the druid!," he captioned a family photo. In two more pictures, Aamir is seen in line for the magic potion that will give him superhuman strength. There are other kids in line for it too. "Obelix waits in line for the magic potion, while Asterix is drinking his dose," he wrote. "And Obelix is refused the magic potion by Getafix!!!," he captioned another picture.
Asterix was a Franco-Belgian comic first written in 1959. It became hugely popular across the world and appeared as comic strips in newspapers and was also sold as a comic book.
Aamir was last seen in Thugs of Hindostan with Amitabh Bachchan, Fatima Sana Shaikh and Katrina Kaif. The film was made on a budget of ₹300 crore but was a big flop at the box office and struggled to make ₹150 crore over the course of two weeks.
Aamir's next film was supposed to be Gulshan Kumar's biopic, Mogul. Aamir and Kiran decided to put the project on hold after they learnt that the film's director Subash Kapoor has been accused of sexual harassment. Subash has been removed from the project.
According to a report in Mumbai Mirror, Aamir is now back in the project. Quoting a source, the report said, "The script is close to Aamir and he wants to make the film. Bhushan and he have had a number of meetings since and decided to collaborate on Mogul again. The hunt is on for another director. They are also looking at finalising the cast so they can roll with the film, asap."
Follow @htshowbiz for more