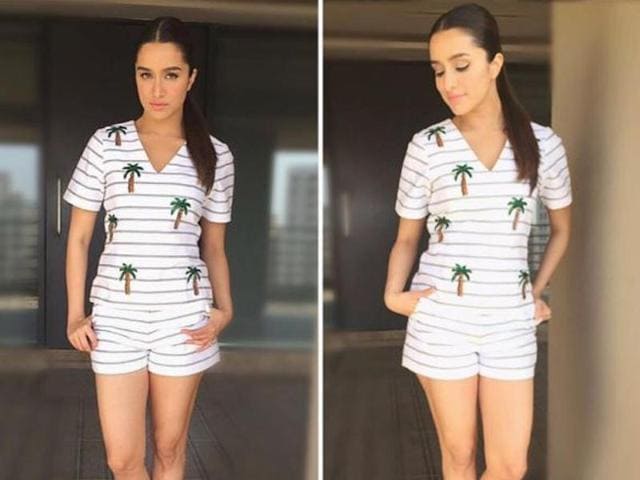 Aiming for a body like Shraddha Kapoor? Here's what she does for it
Shraddha Kapoor advocated the idea of regular exercise and talked about the necessity of developing healthy eating habits and having controlled diet.
UPDATED ON AUG 22, 2016 08:53 AM IST
As a pleasant present to her fans, Shraddha Kapoor has shared her fitness secrets to have a lithe body like hers and gave out easy tips on how to fulfil the routine exercise quota.
The 29-year old actress, in an interview with Filmfare Magazine, advocated the idea of regular exercise and talked about the necessity of developing healthy eating habits and having a controlled diet.
Shunning commonly spread myths about dieting, the Aashiqui 2 actress said, "I follow a balanced diet, which includes grilled vegetables, egg, fish and fruit juices."
She said she loves homemade food. "I try to avoid oily, junk, high fat and unhealthy foods, and like to incorporate high fibre and high protein food items in my diet. I never delay my dinner past 8 pm because I'm asleep by 11 pm," she said.
Read: Spending quality time with friends is food for the soul, says Shraddha Kapoor
In a surprising statement, the actress revealed that she mostly relishes vegan food as it is high on protein and is really beneficial for those working out on a regular basis.
Sharing her routine schedule of meals, she said, "Sometimes, I eat a protein bar. I try to eat 1.5 hours before my workout and eat whatever I feel like but mainly some food that will give me energy. And post workout, I try to eat as much protein and vegetables as I can."
Shraddha also advocated about exercising everyday as it is very necessary for keeping a toned body.
Disclosing that she follows exactly the same, the actress said, "Yes there are days when I don't feel like working out but that feeling can be overcome."
According to her, the best way to deal with laziness is to mix a boring exercise session with some activity of one's choice.
"Fitness is fun, so I sometimes go in for yoga and sometimes other activities. I work out daily for two hours. I am playing a character of a basketball player in my next film Half Girlfriend, so I also need to practice for that," she said.
She also dances daily to keep fit. "I shut myself in a room, play loud music and dance for hours till my feet give up. As I already have a lean body, I don't need to put in a lot of effort to keep fit."
Read: There is fear all the time in Bollywood, says Shraddha Kapoor
Confiding that she doesn't miss on her exercise even when she's off to a holiday, Shraddha said, "I make sure I dance one or two hours a day even on a holiday. Yes there are few days when you feel that you don't want to do anything but I still step up and do it."
She also warns people of following their own exercise regime and insists that everyone should opt for a trainer.
Revealing the source of her approach towards fitness, she said she has got it from her actor dad Shakti Kapoor.
"Papa has always maintained himself, so we always had healthy food cooked at home and everyone was health conscious," she said.
Revealing that she had never been to gym till her teenage, the style diva shares, "I was always involved in sports right from my school days. I always took part in athletics. These games are challenging and necessary for an active body."
Expressing her love for food, the Haider actress said, "Since my dad is a red-blooded Punjabi and mom is a Maharashtrian, my palette is both varied and abundant. I can't resist Maharashtrian style rawa fried fish, jalebis and kacchi kairi."
Follow @htshowbiz for more
Close