Dhadak differs from Sairat in gaze, not caste
In its clueless gaze, Dhadak amplifies Sairat's weaknesses and glosses over its strengths.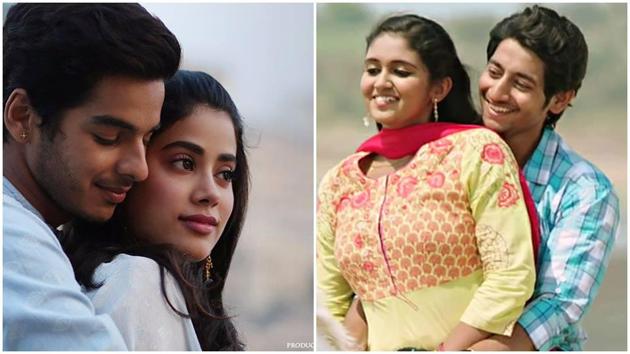 Updated on Jul 24, 2018 03:55 PM IST
There is a moment in Sairat that has stayed with me. About 90 minutes into the Marathi film as the Dalit protagonist Parshya is being hounded by his upper caste lover's family, he seeks the counsel of a professor from his college. The professor, stinging from a recent rebuke at the hands of her family, tells Parshya to dump the girl if he has already slept with her. "After all, these people do the same thing to our women," he reasons.
Parshya flies into a rage, and tells his teacher he loves Archie, and therefore cannot think of women like that, simultaneously both underlining and defying the ways caste shapes gender in India. If caste teaches us to dehumanise women, then in a moment's rebellion, Parshya shatters the structure.
This sequence is one of several that didn't make it to Sairat's Hindi remake, Dhadak, which released last Friday. Several commentators have criticised the airbrushed characters, the lazy plot setting, and the acting that hobble Dhadak. But underneath the veneer of Bandhani shirts and "tharo-maro" hamming, something more insidious is going on.
Look at the families of the two male leads. In Sairat, Parshya's family struggles against the village's caste leadership, and in one scene in the second half of the film, the father is seen pleading with upper-castes to suspend a boycott as his son is as good as dead to him. The everyday ignominy of caste is mirrored in the lives of Parshya's friends, and their family – and even a scene involving Archie defying community barriers by drinking water. Families in the neighbourhood are allowed joy, banter, jokes – not just submission.
In contrast, Dhadak doesn't think necessary to create a world for Madhukar. His family has no community, and his friends are suspended in air – without culture, life and a society for them to seek, they are a nucleus onto themselves. Caste dictum is not shown as shaping public and private lives, but only in the singular matter of Madhukar and Parthavi's love. It is as if the spectre of community censure recedes from the public sphere – so, there are no sequences on other lower-caste families – and exists only in the "pride" that Parthavi's father Ratan Singh feels.
And because caste is not a structure in Dhadak, Madhukar's uncle can reveal his family shunned him because he married a Marathi woman ( a story arc absent in Sairat), a clear indication director Shashank Khaitan thinks questions of honour and community are the same among Dalits and upper-castes.
This framing allows the makers to chop the elaborate chase-and-escape sequences. Archie and Parshya were fleeing a structure of power with roots in every sphere of life and politics, and therefore found themselves repeatedly pulled back into its throes (remember the scene where they take a bus, only to realise that it is going back to Bittergaon, or recognise that the police will do little to help them), but Madhukar and Parthavi are running away from family, not a structure, so the initial escape is painless.
In its clueless gaze, Dhadak amplifies Sairat's weaknesses and glosses over its strengths. The disabled best friend is reduced to a trope and denied basic human dignity, or emotion, while women from the lower castes are completely erased. Madhukar's mother simpers without much screen time, and the strong woman who had sheltered Parshya and Archie, and taught them how to survive in a difficult city, is swapped for a Bengali man in an inter-faith relationship, presumably for the director to cram in more progressive tropes. The housing itself is no longer among rag pickers, domestic workers, and waste workers – all occupations dominated by the lower castes – but some agnostic clot of buildings.
It is then no surprise the director's choice of alternative ending to the film kills the Dalit man, while letting the upper-caste woman live, and then uses the frame of honour killing. Sairat didn't need a trigger for the crime – it showed caste as an unrelenting machine whose function in the banal everyday is its strength – but Dhadak has to give Ratan Singh a reason – losing an election -- to be pushed to kill his son-in-law and grandson.
The difference between the two films, then, is not caste. What sets Sairat apart was its Dalit director, who depicted caste for its cold everyday function, and the terrible price it extracts for resistance and assertion. Dhadak's gaze is upper-caste – the story it tells, therefore, is not about the crushing reality of the everyday but the exalted world of the dominant, where caste is but an aberration. Fittingly, therefore, the hammy Bollywood fiasco underscores that to be clueless about caste is to be the most casteist of all.
Follow @htshowbiz for more
Close Story
Personalise your news feed. Follow trending topics