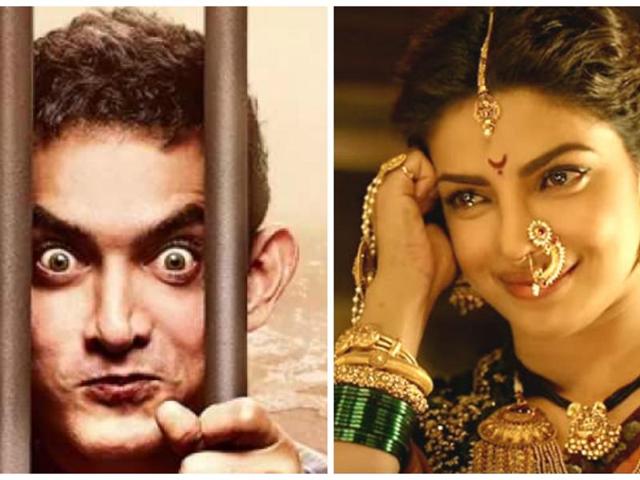 Before Ae Dil Hai Mushkil, these films also faced similar protests
Now, cinema owners have refused to release Ae Dil Hai Mushkil despite clearance from MNS. But, this isn't the first film to face such protests.
UPDATED ON OCT 22, 2016 03:51 PM IST
The problems for director Karan Johar's Ae Dil Hai Mushkil don't seem to end anytime soon. Earlier, Raj Thackeray's Maharashtra Navnirman Sena (MNS) was protesting its release. The situation was resolved temporarily after Maharashtra CM Devendra Fadnavis intervened. Now, the cinema owners association is saying that they won't support the release of the film.
However, Ae Dil Hai Mushkil isn't the first film to face such protests.
Here, we take a look at some of the movies that bore the brunt of similar protests in the recent past:
1. Bajirao Mastani
Ranveer Singh, Deepika Padukone's 2015 film Bajirao Mastani saw protests in several parts of Maharashtra. Local BJP cadres participated in the protest and demanded a ban on the film. They believed teh film has distorted the facts about the era of Peshwa rulers.
Many shows of the film were cancelled after BJP activists gathered outside cinema halls. They were particularly concern about the depiction of Kashibai, wife of Bajirao Peshwa, in the film. Priyanka Chopra had played that role.
2. Goliyo Ki Rasleela - Ramleela
Before Bajirao, the trio of Ranveer Singh, Deepika Padukone and Sanjay Leela Bhansali faced similar protests with Ramleela (2013). Protesters in Indore, Rajkot, Jalandhar and New Delhi blocked roads, and burnt posters demanding a ban on the film's release over the portrayal of Kshatriyas in the film.
3. PK
Aamir Khan had to struggle through several hurdles when Rajkumar Hirani's PK hit theatres in December 2014. A critical take on blindfold religious practices, protesters claimed it was maligned Hindus and attacked their practices alone. There were violent protests and demands for ban but the movie went on to be one of the top grossers of the year.
4. Haider
Vishal Bhardwaj's rendition of Hamlet was attacked mainly for 'portraying the Indian army in bad light', hurting Hindu sentiments and 'overlooking the plight of Kashmiri Pandits'. The 2014 film, nonetheless, received wide appreciation, both from audiences and the critics.
5. My Name Is Khan
Shah Rukh Khan has often faced protests for his straigjt-forward remarks. And just like his latest release, Dilwale, his last film with Kajol also faced protests, not for the film, but his comments. Shiv Sena objected to SRK's comments that Pakistani players should be allowed to play in India and disrupted the screening of the 2010 movie at several theatres across Maharashtra.
6. Fanaa
Aamir Khan also faced the ire of his overtly-sensitive fellow citizens when Fanaa was slated for release in 2006. Aamir extended his support for Narmada Bachao Andolan, upsetting two major political parties - BJP and Congress. The movie was never screened in Gujarat as a result of the ban imposed.
7. Jodha Akbar
Ashutosh Gowarikar's 2008 film, too was slammed for distorting facts about historical figures like Akbar and Jodha. Several states including UP, Haryana and Rajasthan banned the movie initially. The Hrithik Roshan-Aishwarya Rai-starrer, however, managed to be screened across all states after a few days when the ban was lifted.
Close