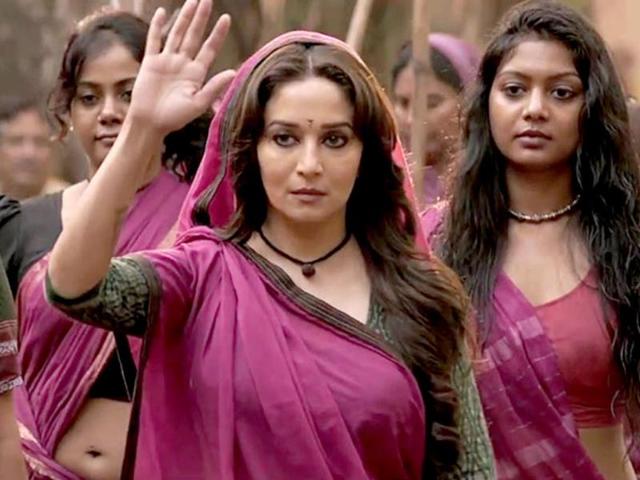 HC to hear producers' plea against stay on Madhuri Dixit's Gulaab Gang
A day after the Delhi high court stayed the release of Madhuri Dixit, Juhi Chawla-starrer Gulaab Gang till May 8, the film's producers moved a larger bench of Delhi HC against the stay order.
UPDATED ON MAR 06, 2014 03:29 PM IST
The Delhi high court today agreed to hear the appeal of
,
-starrer
film producers who have challenged its order staying release of the movie. The film is allegedly based on the life of activist Sampat Pal and her organisation Gulabi Gang.
A bench of acting chief justice B D Ahmed and justice S Mridul agreed to hear the plea during the day after it was mentioned before it by senior advocate Rajiv Nayar, appearing for the producers, Sahara One Media and Entertainment Ltd.
The court said it will hear the plea after the producers will file a compact disc of the lawsuit and other related documents before it.
The producers approached the division bench challenging the order of the single judge who yesterday stayed till May 8 the nationwide release of the directorial debut. The film was slated to hit theatres on March 7.
claimed in her petition that the film is based on her group Gulabi Gang, comprising women vigilantes in UP wearing pink sarees.
Justice Sanjeev Sachdeva had restrained the film's producers and their agents from "releasing, exhibiting, distributing and promoting" the film in India till the next date of hearing on May 8, saying "irreparable damage and injury" would be caused to Pal if it is released.
The single judge had noted that while the producers might suffer monetary loss, Pal will suffer both financial loss, as her copyright over Gulabi Gang has been used without her permission, as well as loss of reputation "which cannot be calculated in terms of money".
Pal in her plea has claimed that her permission was not sought prior to making of the film and had alleged that it contains defamatory content which would adversely affect her reputation.
She has alleged that as per the film's promos, the lead actress playing her character was shown as an anti-social element, wielding swords and sickles, contrary to her real life persona.
While staying the release of the film - censored oruncensored, the court had rejected the argument of the producers that Pal should not be granted any relief as she came to the court at the last minute despite knowing about the making of the film since March 2013, saying it found no merit in the contention.

Close