Padmavati row: Karni Sena threatens to cut off Deepika Padukone's nose
Updated on Nov 16, 2017 06:22 PM IST
Sarv Brahmin Mahasabha submits signatures with blood, in Jaipur, to be sent to the Central Board of Film Certification, seeking ban on Padmavati.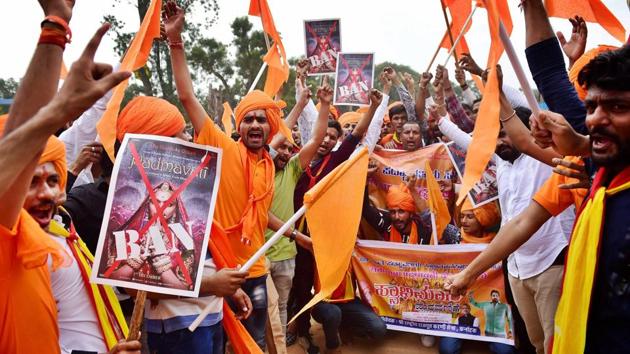 Fringe organisations have scaled up protests against Sanjay Leela Bhansali's film Padmavati and the street war is getting uglier by the minute. Karni Sena, whose members attacked the director in January this year in Jaipur where he was shooting the film, have now threatened to maim the film's lead actor, Deepika Padukone.
The film is based on a 16th century poem and historians have said that there is no record of such a queen in history.
Speaking to ANI, Karni Sena member Mahipal Singh Makrana said, "Rajput Karni Sena is fighting to protect the image of women being portrayed in the films. We never raise a hand on women but if need be, we will do to Deepika what Lakshman did to Shurpanakha for violating the rules and culture of India."
Earlier in the day, Sri Rajput Karni Sena chief Lokendra Singh Kalvi said the Sena would gather in lakhs and called for a nationwide shutdown on December 1. "Our ancestors wrote history with blood, hence, we will not let anyone blacken it," he added.
Meanwhile, Sarv Brahmin Mahasabha are signing a petition with blood against the film, which will be sent to the Central Board of Film Certification (CBFC). Rajput community in Meerut has also announced a bounty of Rs 5 crore on the filmmaker's head.
He threatened to burn down any theatre which screens the film and said, "Jauhar ki jwala hai, bahut kuch jalega. Rok sako to rok lo. (This is the fire of 'jauhar', a lot of things will burn. Stop us if you can.)"
The film has been submitted to the Central Board of Film Certification (CBFC) and is slated to hit theatres on December 1. The CBFC is yet to watch the film and chairperson Prasoon Joshi told IANS, "The speculative reports a few publications are carrying about I having watched Padmavati are absolutely baseless and untrue. I have not watched the film, not expressed any views regarding it. The film will follow the due process at CBFC."
On Wednesday, the Uttar Pradesh government wrote to the Centre saying the release of the film on December 1 will pose a law and order problem for the state. UP Principal Secretary (Home), Arvind Kumar said the Censor board should be apprised about the public resentment over the alleged distortion of facts in the movie. "The Censer Board members should take a decision after taking into account people's views. They should be apprised about it. It has come to the notice through intelligence reports that the film's producers have presented the movie for Censor Board clearance. After the release of the trailer of the movie on October 9, various social and other organisations opposed the film," the letter said.
Follow @htshowbiz for more
Close Story
Personalise your news feed. Follow trending topics