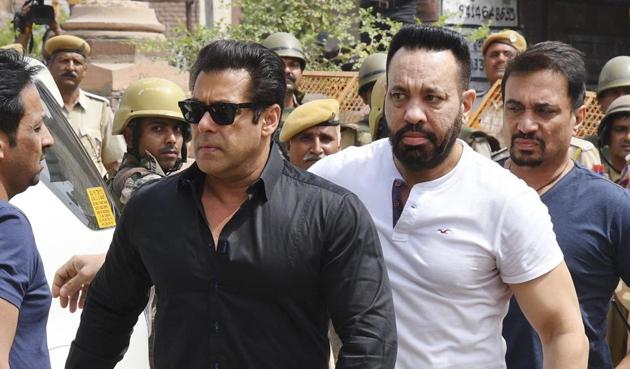 Salman Khan gets 5 years in jail: The personal, professional life of superstar who was a bad boy
As Salman Khan is sentenced to five years in jail in the blackbuck case, here is a look at the personal and professional trajectory of Bollywood's erstwhile bad boy.
Hindustan Times | By Sweta Kaushal
UPDATED ON APR 05, 2018 03:57 PM IST
Bollywood actor Salman Khan was convicted by a Jodhpur court on Thursday in the two decade old blackbuck poaching case and sentenced to five years in prison. The actor reportedly broke down after he was held guilty and as his lawyers pleaded for a two-year sentence. Flashback to the early 90s when no one, not even his critics, could imagine Salman in a weak moment. He was then the bad boy of the Hindi film industry, a title which he carried with aplomb.
Since his debut in the early 1980s, the flamboyant Bollywood star has been a mass hero, a trend-setter and an entertainer. Controversies didn't deter him or his fanbase who would head to theatres every time Bhai's film released. For the past decade, however, Salman has been deliberately choosing his public moves, image and even films to create a "humane" image and , in a way, nullify the previous image of a rich brat. The creation of Being Human Foundation in 2007 was clearly the biggest and one of the earliest step in Salman's image makeover. Through the NGO, Salman began offering medical, health and financial help to the poor and kids.
Salman Khan gets 5 years in jail: How much money is riding on the actor
From Wanted (2009) onwards, Salman became the role he portrayed -- a Robinhood character who is always morally right while staying strictly in the realm of patriarchy. He went on to feature in hits like Ready and Dabangg. In 2015, Salman set box office records on fire with hits like Bajrangi Bhaijaan and Prem Ratan Dhan Paayo, he was also acquitted of all charges in the 2002 hit-and-run case. And, this was also the year when his transformation from an erstwhile bad boy to, well, being human was complete. One of the most bankable stars in the Hindi film industry, Salman now craves for more.
Blackbuck poaching: The case that handed Salman Khan a 5-year jail term
During an appearance on chat show Koffee with Karan, Salman said in April 2014 that he was making his choices of films as well as humanitarian endeavours based on one principle: He does not want to be a movie star who has a great fan following in his life and is forgotten in death. Salman added he wanted to help others and do something that will not let him fade from people's memories... a legacy.
Here's a look at his transformation from the Bollywood brat to the saner, helpful Bhai that we see now:
Salman Khan – Bollywood's brat
Salman started his career with a supporting role in Rekha-Farooq Shaikh-starrer Biwi Ho To Aisi when he was in his early twenties. He took many avatars on screen over the years and ran into several major controversies.
He has a history of troubled relationships (Aishwarya Rai's parents filed a police complaint against Salman in 2002, alleging that he threatened and harassed the ex-Miss World) and picking up fights with co-stars (he had a tussle with Shah Rukh Khan at Katrina Kaif's birthday party in 2008 and once allegedly threatened Vivek Oberoi who was dating his ex, Aishwarya). His court cases also piled up -- Salman had four cases filed against him for poaching chinkaras and blackbucks and one under Arms Act. He was booked and acquitted for a fatal accident while driving under the influence of alcohol.
Salman Khan – Masses' hero, trend-setter
Salman has time and again appeared as the larger-than-life hero who can take on the system, beat up an army of goons and win the world single-handedly. Bizarre action sequences and movies steeped in chivalry are rampant in south Indian films. It was Salman who spotted the potential of such movies in the Hindi belt. With Wanted (2009), Khan started the trend of remaking Tamil and Telugu films -- with almost no additional inputs for a different cultural milieu.
When Salman proved that films with similar plot and scenes can still make the audiences flock to theatres, stars such as Akshay Kumar (in Rowdy Rathore and Boss) and Ajay Devgn (in Son of Sardaar and Action Jackson) thought of putting their bets on south remakes.
Salman Khan: Re-inventing his brand
Setting up the Being Human Foundation in 2007 was Salman's first major step towards re-branding himself. The 'brat' started investing time and money for philanthropic causes. The foundation runs a lifestyle brand -- royalty from which is allotted for children in need. Salman has now focused on medical care and education for children. To gather money for the cause, Salman has also set up a production house – Salman Khan Being Human Productions, which has produced the National Film Award-winner for best children's film, Chillar Party (2011), and Canadian movie Dr Cabbie (2014).
(This is an edited version of a copy that we ran in 2016.)
Interact with the author @swetakaushal
Follow @htshowbiz for more

Close