Blackbuck poaching: The case that handed Salman Khan a 5-year jail term
Actor Salman Khan is accused of killing two blackbucks, hunting of which is prohibited under the Wildlife Protection Act, in Jodhpur during the shooting of film Hum Saath Saath Hain in 1998. All you need to know about the case.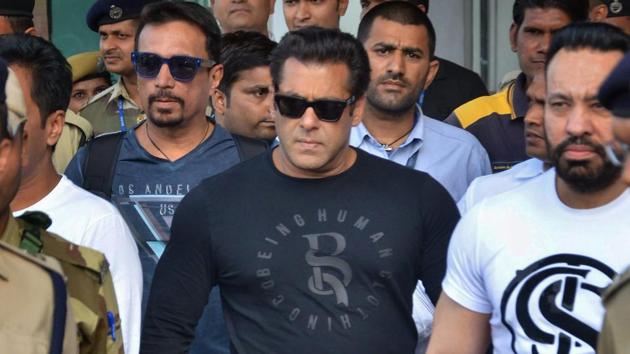 Updated on Apr 05, 2018 05:53 PM IST
A Jodhpur court on Thursday convicted actor Salman Khan in a two-decades-old blackbuck poaching case for the killing of two blackbucks of the endangered species. The actor was sentenced to five years in jail and fined Rs 10,000 by a court.
Co-accused actors Saif Ali Khan, Tabu, Neelam Kothari and Sonali Bendre, and local resident Dushyant Singh, were given benefit of the doubt and acquitted.
Final arguments of the case were completed in the trial court on March 28, after which chief judicial magistrate Dev Kumar Khatri had reserved the judgment for Thursday. (Live updates)
The charges
Salman is charged with poaching the endangered antelopes under section 9/51 of the Indian Wildlife (Protection) Act, 1972. He has been sentenced to five years in jail.
Actors Saif Ali Khan, Sonali Bendre, Tabu and Neelam Kothari and a local resident, Dushyant Singh, were also among the accused in the case. They were charged with inciting him to poach the two animals under section 9/51 read with 52 of the wildlife protection act and illegal assembly under section 149 of the Indian Penal Code.
Timeline
October 2, 1998: Forest department registers a report against Salman Khan, Saif Ali Khan, Tabu, Neelam Kothari, Sonali Bendre, Dushyant Singh and Dinesh Ganware for allegedly killing two blackbucks. The complaint was filed after an investigation.
October 12, 1998: Forest department arrests Salman, and keeps him in custody for two days. He spends four days in jail from October 15 to October 17.
November 9, 2000: Chief judicial magistrate of a local court in Jodhpur takes cognizance of the matter.
February 19, 2006: Charges are framed against the accused after the arguments are presented.
March 23, 2013: Revised charges are framed against all accused by the trial court. Repeated revision petitions, first by the defence in the session court and then by the prosecution in the high court, hold up the trial for seven years.
May, 2013: Trial in the case begins in the chief judicial magistrate court. At least 28 witnesses from the prosecution side are produced for examination. Statements of Salman and other accused are recorded.
January 13, 2017: Deposition is completed in the trial court.
January 27, 2017: All accused appear before the chief judicial magistrate court for recording their statements.
September 13, 2017: Final arguments begin in the trial court.
March 28, 2018: Final arguments completed. Chief judicial magistrate Dev Kumar Khatri reserves judgement for April 5.
April 5, 2018: Court convicts Salman. Gives benefit of doubt to other accused including actors Saif, Tabu, Sonali and Neelam, and acquits them.
Close Story