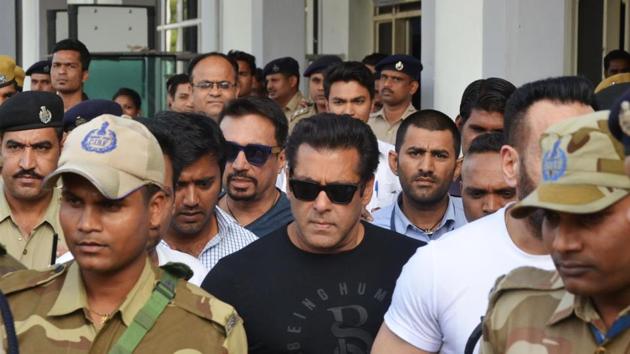 Blackbuck poaching case live: Salman Khan convicted, gets five-year jail term
Salman Khan was convicted of poaching blackbucks in Jodhpur district in Rajasthan in September 1998. The court acquitted co-defendants Saif Ali Khan, Sonali Bendre, Tabu and Neelam Kothari. Here are the live updates
UPDATED ON APR 05, 2018 03:24 PM IST
A Jodhpur court on Thursday convicted Bollywood actor Salman Khan in the 1998 blackbuck poaching case, but acquitted co-accused Saif Ali Khan, Tabu, Neelam and Sonali Bendre, a prosecution lawyer said.
Salman Khan has been held guilty of killing two blackbucks in Kankani village near Jodhpur in October 1998 during the shooting of the film "Hum Saath Saath Hain".
A fifth person, Dushyant Singh, a local from the area, has also been acquitted, said Mahipal Bishnoi, the prosecution counsel.
Here are the live updates:
3.25pm: Hearing in the bail application of Salman Khan to take place tomorrow in Jodhpur sessions court.
3.20pm: I feel bad. He should be given relief. He has done a lot of humanitarian work: Jaya Bachchan, Rajya Sabha MP on Salman Khan verdict.
3.15pm:
2.10pm: Salman Khan handed a five-year jail term and Rs 10,000 fine by Jodhpur court. He will be taken straight to Jodhpur Central jail.
1pm: Actors Saif Ali Khan, Tabu, Neelam Kothari and Sonali Bendre leave court, head back to their hotel.
12.10pm: Salman Khan's 20-year Bollywood career has been marked by court cases. Read the details of all the court cases in which the actor has been named.
11.50am: Arguments on the quantum of punishment is on. Salman Khan's counsels are pleading for probation, says NS Solanki, lawyer of Dushyant Singh, a co-accused in the case
11.40am: If Salman Khan's sentence is less than 3 years, he will get bail from Jodhpur court itself. If the quantum is over 3 years, Salman will go to jail and have to seek bail from the sessions court
11.30am: Jodhpur court has convicted Salman Khan in the blackbuck poaching case. Saif Ali Khan, Tabu, Sonali Bendre and Neelam Kothari have been acquitted.
11.02 am: Salman Khan, Saif Ali Khan, Tabu, Sonali Bendre and Neelam Kothari have arrived at the Jodhpur court.
10.45am: Salman Khan's sisters Alvira and Arpita leave Jodhpur hotel with lawyers for the court.
10.30am: Salman Khan and other to reach court at 11 am. Court proceedings will begin at 11.15 am.
9.50am: The Rajasthan Police have deployed rooftop snipers near Jodhpur court for security, said Jodhpur (East) DCP Dr Amandeep Singh Kapoor.
9.15am: Sonali Bendre, Saif Ali Khan, Tabu and Neelam also reached Jodhpur on Wednesday.
9am: Salman Khan, 52, arrived from Mumbai in a chartered flight on Thursday. He was earlier in Abu Dhabi for the shooting for "Race 3".
Close