Taapsee Pannu: I was rejected for stupid reasons like 'you're not so-and-so's daughter'
Published on Mar 05, 2018 05:55 PM IST
Actor Taapsee Pannu shares how she was undermined when she ventured into films, and faced rejection for several 'stupid reasons'.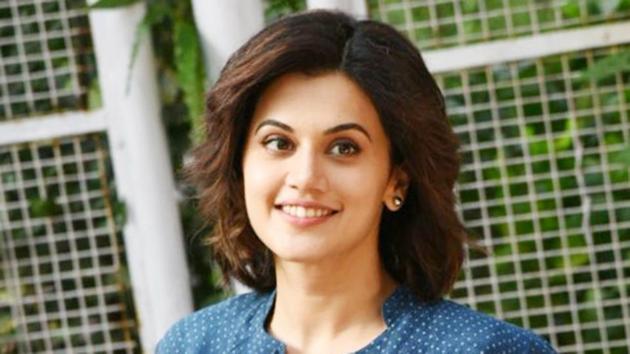 Hindustan Times |
, New Delhi
Rishabh Suri
Taapsee Pannu is arguably one of the most versatile actors in Bollywood. She rose to popularity in Telugu and Tamil cinema, and has steadily proved that she can deliver a good performance across genres — be it a serious character alongside Amitabh Bachchan in Pink (2016), playing to the gallery in the rom-com Judwaa 2 (2017), or acing action in Baby (2015) and Naam Shabana (2017).
But venturing into the glamorous world of films wasn't a bed of roses for Taapsee, who made her acting debut with the Telugu film, Jhummandi Naadam in 2010, and entered Bollywood in 2013 with Chashme Baddoor. The actor reveals that she "got rejected over stupid things" and was talked about in "a very weird manner" initially.
"I was told, 'You are not beautiful and glamorous enough', 'Oh no, you're too serious an actor... 'You're not good enough an actor', 'You are not so and so's daughter'. I was even told, 'You are not a big marketable name," shares Taapsee, who didn't let this discouragement bring her down, but admits that she wouldn't want a loved one to go through this, speaking of her younger sister Shagun.
Star siblings often follow in the footsteps of their established brothers and sisters, into filmdom. "Even though I haven't gone through really bad things, as many have, this isn't something I'd want my sister to go through. I love her most in the world. I am very possessive about her," Taapsee is quick to add.
She elaborates that in many cases, "it becomes easy for the younger sibling" to feel like a part of the industry, "because the elder one has already fought the battle, paved the way and the family is convinced ki 'Ek ne kar liya, toh theek hai'. I didn't tell my sister that 'you shouldn't come [into this acting industry]', but yes, it was at the back of my head."
From being undermined to headlining films, Taapsee has come a long way. How does she define her growth as an actor? "Today, this (acting) is the only thing I want to work for. Earlier, I didn't know how to act or how this industry goes about, what goes behind choosing films. Now, I think [on the lines of] how I can do a variety of roles, and increase my value in the industry. Therefore, from knowing nothing to being here, it has been a long journey," the actor concludes.
Interact with the author on Twitter/ @RishabhSuri02
Personalise your news feed. Follow trending topics