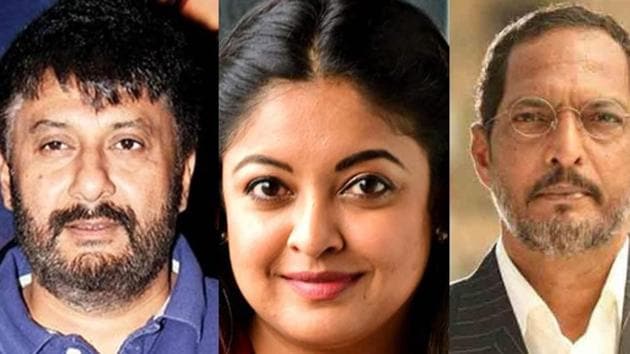 Tanushree Dutta gets legal notices from Nana Patekar, Vivek Agnihotri, says men tried to barge into her house
Tanushree Dutta has received legal notices from Nana Patekar and Vivek Agnihotri after accusing them of sexual misconduct and harassment.
UPDATED ON OCT 04, 2018 09:14 AM IST
Tanushree Dutta has said that she has received legal notices from Nana Patekar and Vivek Agnihotri on Wednesday, days after she accused both of them of sexual misconduct and harassment. Tanushree has alleged that both Nana and Vivek harassed her on film sets almost a decade ago, in what is being called as India's #MeToo moment.
Tanushree released a statement late on Wednesday, saying, "This is the price you pay for speaking out against harassment, humiliation and injustice in India." She also claimed that the teams of the director and actor are out to smear her reputation with "outright lies and misinformation on social media platforms and other public platforms".
She also alleged that two people tried to barge into her house; she had earlier said that she was being threatened and has been given protective custody by the Mumbai Police. "Today while I was at home and the police personnel posted outside my home were on a lunch break two unnamed suspicious individuals tried getting into our home uninvited but were stopped just in time by security personnel in the building. Later the police came back from their break and secured the premises again. Violent threats are being issued against me by the MNS party."
She painted a grim picture for women's rights in India. "'Tareek pe Tareek pe tareek' and the dawn of justice never arrives and her whole life goes waste awaiting justice while witnesses are intimidated,discredited or simply drained of their will to stand up..False witnesses supporting perpetrators conjured up to furthur weaken her case.Court cases can run for decades without a hope for a conclusion.At the end an empty shell remains,broken hopes,A life wasted,defeated.This is the age old saga of survivors in our nation."
Tanushree added that these are the reasons why women will not come out and tell their stories in India: "I walked away once from the same environment that was created for me 10 years ago..Found God ,found my healing,found my peace and a new life in United States of America. And now I stand to lose this new life too if I allow myself to get embroiled in the court system of India. And you wanted to know why the me too movement hasn't happened in India...This is why..."
Tanushree had alleged that Nana physically and sexually harassed her during the shoot of 2008 film Horn OK Pleasse. She had claimed that Nana demanded she should shoot a lewd step with him and when she refused, members of a political party were called who threatened her and vandalised her car. Nana had dismissed the allegations while a journalist and an assistant director on the film corroborated Tanushree's account. A number of Bollywood personalities have spoken in Tanushree's favour including Farhan Akhtar, Kajol, Ayushmann Khurrana and Priyanka Chopra.
She had later accused director Vivek Agnihotri of inappropriate behaviour on the sets of his 2005 film, Chocolate. The actor recalled an incident on set when she was commanded to strip and dance without any warning, and said that established actors Irrfan Khan and Suniel Shetty stood up for her.

Close