The reason behind Arijit Singh's shocking apology to Salman Khan
Arijit Singh ostensibly 'insulted' Salman Khan at an awards nite when he told the Bollywood superstar that his hosting skills put him to sleep.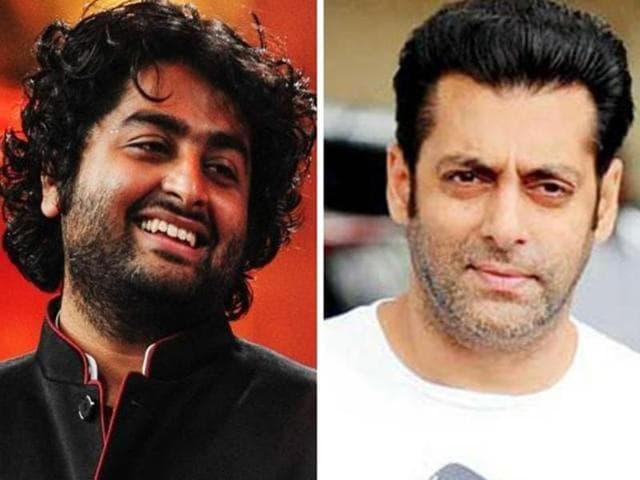 Updated on May 27, 2016 03:14 PM IST
Arijit Singh's abject public apology to Salman Khan on Facebook has left his fans shocked. On Tuesday, the Bollywood singer wrote a post saying Salman felt insulted by something he had said at an awards' nite and he has been apologising ever since.
Arijit, who has lent his voice to chartbusters such as Tum Hi Ho and Agar Tum Saath Ho, also begged Salman to retain a song he has sung in the upcoming Sultan, "Please do not remove the song that I sang for you in Sultan… I want to retire with at least one song of you keeping in my library. Please do not take away this feeling." He later deleted the post.
Read: Arijit Singh posts shocking public apology to Salman Khan, deletes it
It has now been revealed what led to bad blood between the two. Sources said the incident dates back to 2014 when Arijit went up to receive an award from Salman Khan and Riteish Deshmukh. He told the duo, "Aap logon ne toh sula diya (you put us to sleep)". To that, Salman replied, "Aur isme humara koi dosh nahi hai, agar aise gaane bajte rahenge…" and hummed the tune of Arijit's Tum Hi Ho.
Salman's manager told Times of India that the singer met Salman a month ago, after which he thought the tiff between the two was over. However, on May 24 he learnt that the song he had recorded for Sultan was not being retained.
Believing that Salman was still miffed with him, he tried texting and calling the actor but to no avail. Salman had also got Arijit's songs removed in some of his recent releases including Kick and Prem Ratan Dhan Payo, according to the report.
Actor Nikhil Dwivedi, considered a Salman loyalist, claims that Salman has nothing to do with decision on Arijit's song. Nikhil's tweet claimed Salman did not get the producers of Sultan - Yash Raj Films - to delete Arijit Singh's song but that it was true the actor refused to meet the singer.
A Mid-Day report also quoted a source as saying, "Salman isn't petty. Why would he ask for a song to be removed from the film when he had shot with the version recorded by Arijit? Music directors usually record a song with various artistes and the best one makes it to the album. So, in case of Sultan, it was purely producer Aditya Chopra's and Vishal-Shekhar's call."
Bollywood personalities have criticised Arijit for his grovelling post. Spotboye quoted producer Mukesh Bhatt as saying, "What he (Arijit) has done was simply not required. It was a minuscule incident which happened two years ago, now he has made it gain focal attention all over again. Why? I am so baffled."
Producer Pritish Nandy also tweeted in same vein.
Close Story