Writing is a very solitary experience: Habib Faisal
Updated on Oct 18, 2015 06:56 PM IST
Bollywood filmmaker Habib Faisal talks about his journey in Bollywood, his admiration for Amitabh Bachchan, and more.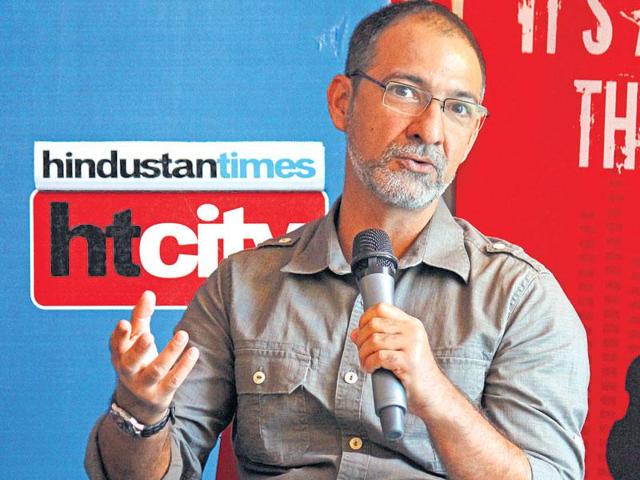 Hindustan Times |
, New Delhi
Prashant Singh
When you enter his quiet pad in Andheri's Lokhandwala area, writer-director Habib Faisal instantly sets the tone of our chat by uninhibitedly sharing his views on the current state of affairs in the country. "We always connect politics to party politics. But it can also be about politics of entertainment or engagement (sic)," says the 49-year-old, as he also talks about his journey in Bollywood, his admiration for Amitabh Bachchan, and more.
You are an accomplished writer and director. What excites you more — writing or directing?
I can't pick one over the other. They're both very different experiences. Writing is a very solitary experience; it's a bigger personal struggle for me. On the other hand, when I direct, I have a script that I have confidence in. But when I am writing, I don't have anything. Writing is a far more complex process. When it happens, it's joyful. But when it doesn't, you hate and curse yourself.
Today, when you look back, do you feel that you are doing what you had set out to do?
Professionally, yes. I guess most directors would say that it's not a nine-to-five job. When you write or direct a film, you are into it completely. Some people are good at detaching themselves from their work, and some are not. The way things have happened with me, I can't guarantee that I will be making films two-three years down the line. But right now, I am excited about my next script. I have been happy with the way things have happened. Now that I have a grown-up daughter, who is studying in the US, I'm trying some time management, so that I can give more time to not only the people I love, but also to myself for my personal growth.
Did films influence you a lot when you were a kid?
Not really. I used to watch films as any other viewer. At home, we were allowed to watch one film a month, and during exam time, a film airing on TV would also be problematic. I remember watching a lot of films when we would travel to Bhopal, Madhya Pradesh during summer vacations.
We've heard that you are a big fan of Amitabh Bachchan...
At one point, I was a huge fan, especially at the time when films like Deewar (1975) and Suhaag (1979) released. I remember watching Trishul (1978) for the first time in Delhi, and then travelling in DTC buses from Jangpura to Old Delhi to watch the movie all over again, because it moved to theatres there. I interacted with Mr Bachchan as an assistant director during the making of Jhoom Barabar Jhoom (2007). After the release of Ishaqzaade (2012), he sent me a bouquet with a hand-written note. Immediately, I had a long chat with him over the phone.
What is next?
I am writing a script. The subject requires a lot of research, and is quite complex. So, I am taking my time to make sure that it is entertaining, thoughtful and foolproof.
You worked as a cameraman for a news TV channel before you moved to Bollywood. How did the transition happen?
I started as a cameraperson professionally. But, for any creative person, things start much before you get into the professional realm. For me, it all began when I started doing theatre with Kirori Mal College's (KMC) society, The Players. Initially, I was keen on studying medicine, specifically to be a part of army, since I always loved the uniform.
So you weren't interested in the creative world till then…
I was doing my B.Sc in Zoology (Hons.), and had planned to prepare for the Armed Forces Medical College entrance examination after that. One day, there was a notice for an audition for a play [in my college]. I went for it, and got selected for a production — Harold Pinter's A Night Out. I ended up playing the lead. That's when I knew the bug had bitten me.
Didn't your parents object?
I am talking about 1984. So, my middle-class parents had their insecurities, as they felt I needed to take up a professional course. But I was lucky to have parents who, despite being alarmed, went along with my wish. Then I went to Keval Arora (staff advisor to The Players), in whom I found a teacher who understood my enthusiasm. I consider myself lucky to have understanding parents and a teacher like that.
How did you end up studying film-making?
I wanted to do theatre professionally. Then, I thought, 'Let me deal with my wary parents and do a professional course.' That's when I decided to do the mass communication course at Jamia Millia Islamia. During my film programme there, the first time I put two shots together — that was before the digital era — by cutting the film and splicing it together, and played it, I saw the magic happen.
Didn't you also work on a film in between?
Yes, I assisted on a film called An Electric Moon by Pradip Kishen, written by Arundhati Roy. Coincidentally, it was also Tishu's (Tigmanshu Dhulia) first film as an AD. While doing that I realised I need to study more. So I went for my second Masters in the USA, which is where I got exposed to shooting a lot for documentaries. When I came back, I wanted to do more of that, and also make money. So I joined the news TV channel.
When did you decide to quit it and turn to Bollywood?
I consider myself very lucky. Whenever I have had enough of one thing and wanted to do something else, something has always worked out. I have seen so many other talented people, who haven't had a chance or break. One reason I quit the TV channel was because I had done enough of it. Also, when news channels became 24-hour channels, it became a TRP war. So the kind of things that were happening to news — like using music in news — was disturbing and not of my liking.
Did you know people in the film industry when you started out?
After quitting TV, I wrote and directed fictional shows on TV, including Lavanya and Kareena Kareena (KK). While I was doing KK, I wrote Salaam Namaste (2005) for Shaad Ali, after Tishu told him about me. By the time I finished, Shaad had found the script for Bunty Aur Babli (2005) and had started working on that. Then, when Siddharth Anand was looking to make his first film, Adi (Aditya Chopra; producer) shared Salaam Namaste's idea with him. So, I came back to it and wrote the screenplay.
How did your first film happen?
It was more like I had to tell a story. It all happened when the Nano was launched. At that time, reports called it a car that was within the reach of the middle class. When the story [of Do Dooni Chaar; 2010] was ready, I shared it with Adi. He said it was exciting, but he was busy with Rab Ne Bana Di Jodi (2008). I was foolhardy, and said that I couldn't wait. So, I tried somewhere else.
Then, you got the responsibility of launching Arjun Kapoor in your second film?
I don't go by these responsibilities. In Ishaqzaade (2012), we wanted newcomers to create that real world. He just happened to be Boney Kapoor's son. He never brought in Mr India's (1987) producer's son résumé with him. There's a negative perception about them (star kids) getting undue advantage, but that's not true. I was out to make a film on honour killing; I wasn't writing a film to launch Arjun.
All your films have been commercial in nature...
In this day and age, every film is a commercial movie. You can't say Masaan isn't a commercial film because money is being put in and it must be at least recovered. Yes, the reasons for making a film could be different.
Do you think we lack good, original story ideas?
There are stories all around us, but we only look for templates. Eighty per cent of all stories have reference from other films and not the real world. There's a slant towards biopics, after Paan Singh Tomar (2012), but now, it's also being twisted around as per one's comfort zone.
Where do your ideas come from?
Mainly, it happens from what's happening around me. All my three films' ideas came from newspaper stories, Primarily, anything that is disturbing to me, or anything that makes me want to celebrate, attracts me. I also don't want audiences to predict what happens in my films.