Rafia Zakaria pays homage to Karachi with her new book
The Upstairs Wife: An Intimate History of Pakistan, narrates the country's strife-torn journey through the story of a devastated wife.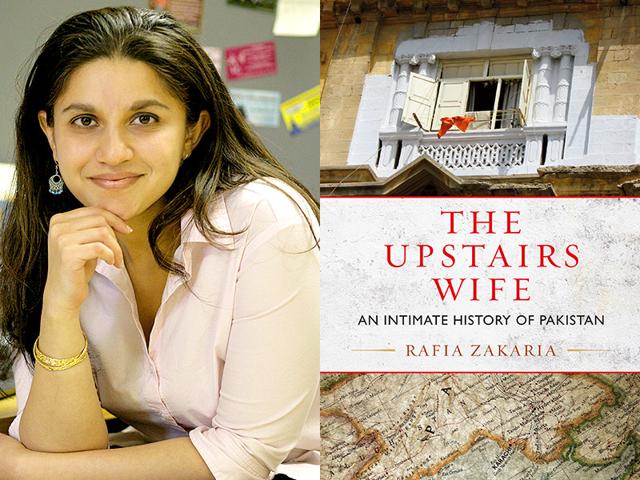 Updated on May 22, 2015 06:17 PM IST
Hindustan Times |
, Kolkata
Deepshikha Bhattacharyya
Human rights activist and lawyer Rafia Zakaria's part memoir and part historical novel, The Upstairs Wife: An Intimate History of Pakistan, narrates the country's strife-torn journey through the story of a devastated wife.
Post Partition, Zakaria's Muslim-Indian family migrates to Pakistan in 1962. But in the 1980s, Pakistan's military dictators begin an Islamization campaign, which particularly affects women's freedom and safety. Zakaria, then a 10-year-old, is baffled when her aunt Amina's husband, Sohail, takes a second wife, something unheard of in their family till then. Zakaira tells parallel stories of Amina's polygamous marriage and Pakistan's hopes and betrayals through this book. We caught up with the author who spoke about the book, Pakistan and more.
Why did you decide to write this book?
This book is homage to Karachi where I was born and raised and which holds a very special place in my heart. It is also an exploration of my belief that loving an idea and loving reality are two very different things. This is the tension that the book tries to draw out, whether it is about migration or marriage or any other human aspiration. At some point the love of the mental image has to be tempered by reality. I feel Pakistan and Pakistanis stand at that juncture today.
The Upstairs Wife is also an intimate tale of your family. Didn't anyone object to you writing it?
My family has been supportive of my work. I have always been rebellious and perhaps they saw this as an extension of that. More importantly, I feel that this sort of exploration into the private is crucial for Pakistani women and for South Asia in general. I don't think we have a narrative of the emotional in this region, or its connections to the political.
You interweave history with your story. Was it done intentionally?
Yes, they always say the victors are the authors of history in reclaiming Pakistani history for Pakistani women. I wanted to show them that they can be victors. It is especially useful today because Pakistan is standing at the cusp of change and pushing women back into the home is seen by many as more truly Pakistani than women participating equally.
Your book has strong women who bend to the times. Is it still the story in Pakistan?
Absolutely, to love the reality of anything you have to bend and break and change. The book tells the story of Pakistan through the eyes of its women. One of the biggest challenges empowerment projects have faced in Pakistan has been the burden of US intervention. When you have a foreign power droning one part of a country and giving money to build schools for girls on the other, then the result is that schools for girls become associated with bombing. This has made Pakistani women, their visibility and their prominence a place of political contention, where all empowerment is not viewed with suspicion. It is a terrible tragedy for Pakistani women because they are single-handedly bearing the burden of US intervention by having to prove their patriotism all the time. Their position in the public sphere is contested because anti-Western sentiment is at such a high that eliminating women from the public sphere is seen as one way of rebelling against the West and proving that Pakistan is indeed different.
What do you think the reader will take away from this book?
I hope the story humanises Pakistan; reveals that it is not some cesspit of terror and danger but a place where people love and laugh and live amid extreme conflict. I wanted to lift Pakistan from merely a counterpoint of strategic interests of this or that nation to a Pakistan as a home for ordinary people just like us.
Your book has touchy subjects such as India-Pakistan relationships, Islam and women. Were you not worried about the backlash?
I think a writer's first commitment is to truth and to her readers. I felt that responsibility had to be central and above all other considerations of backlash. Also, I think the trope of the "persecuted writer" popularised in recent decades is often a shortcut that deflects from the story one has to tell and the person of the writer instead. I am not interested in that; I am interested in creating an experience for readers that allows them to expand their hearts and minds, be more compassionate, stand for a second in another's shoes.
What are you working on at present?
I am working on a book of essays and several other projects. I have a longer essay on Mohammed Ali Jinnah and his wife Ruttie Jinnah that will appear in a magazine in the coming months.
Your favourite all-time book and author?
Doctor Zhivago by Boris Pasternak.
Close Story
Personalise your news feed. Follow trending topics