The problem with India is its extreme inequality: Piketty at JLF 2016
Jan 24, 2016 08:30 PM IST
Thomas Piketty talks about inequality in the Indian context
On Saturday morning, the Char Bagh hall was packed with those awaiting French "rock-star economist" Thomas Piketty, whose work on inequality has taken the world by storm. Piketty soon walked up to the stage accompanied by Chief Economic Advisor Arvind Subramanian, political commentator Pratap Bhanu Mehta and British journalist Sebastian Mallaby and released the Hindi edition of his bestselling "Capital in the 21st Century".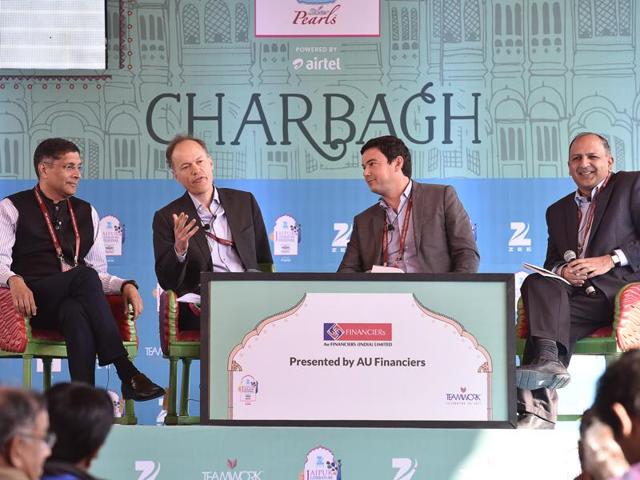 A monumental thesis on inequality that looks at both the historical and economic contexts, one of its central themes is to do with how, in an economy where the rate of return on capital is more the rate of growth, inherited wealth would always grow faster than earned wealth. Excerpts from an interview on the sidelines of the Jaipur Literature Festival 2016.
Congratulations on the success of your book. You've been called "a rock-star economist" and "the Karl Marx of the 21st century". How do you wear these labels?
Thank you. The book has sold almost 2.2 million copies, and only one-fourth of that is in the English language. The sale of the copies in Chinese, Japanese and Brazilian, among other languages, forms the remaining three-quarters of total sales. This reflects some sort of democratisation of economic knowledge and I'm very happy with that the kind of success. And no, life hasn't changed. I think I'm the same – teaching, family and children.
Read: JLF 2016: If I want to eat beef I will, says Barkha Dutt
What are your thoughts on the massive inequalities that haunt Indian society?
India has to curb its inequality if it wants to compete with the rich countries of the world and if it wants to become one of the powerful nations. The problem with India is extreme inequality along with its legacy of caste discrimination. It's high time that Indian elites realise that it takes major social and economic reforms to curb inequality.
Inequality leads to violence, taking different forms in different countries. When you have extreme inequality, it causes disruptions of peaceful institutions and smooth working of policies.
You once said that the Islamic State in West Asia is also a result of gross inequality.
In my country or in America, the extreme right-wing blames foreigners and Muslims for many of their problems. Similarly, in the Middle East you have fascist ideologies, which encourage people to blame certain groups for their problems. Like that, in India, blaming people for eating beef and other kind of identity politics grows when you have extreme inequality.
Read: Intolerance row: Indians 'oversensitive' on certain issues, says Kajol
You have spoken about the lack of data on inequality in India.
In India, the lack of transparency affects the study of inequality. For instance, to understand the relationship between caste discrimination and economic inequality, you need to have proper data. There is no transparency on income tax data either. If India wants to reduce inequality, it has to become more transparent.
Do you believe capitalism is leading us to a dystopian future?
India should use the next 20 or 30 years to increase the state capability to invest in sectors like health and education. Otherwise, there will be tensions; politics of hate and divisions between religious groups will increase and some people will try to prey on these clashes.
For more JLF 2016 stories click here.
"Exciting news! Hindustan Times is now on WhatsApp Channels
Subscribe today by clicking the link and stay updated with the latest news!"
Click here!