This new graphic novel is a millennial's guide to good parenting
Dec 01, 2018 05:47 PM IST
Raising Rihaan is a new graphic novel that talks of millennial parenting challenges, be it helicopter parenting or how to raise your child in a hyperactive digital age.
Millennial parents have their hands full. While there are tons of literature, websites and parenting network groups for guidance, it is nevertheless a challenge to decide on how to raise a child. Drawing attention to modern-day parenting issues is Raising Rihaan, a graphic book written by journalist Ketaki Latkar and designed by illustrator and visual artist Annushka Hardikar.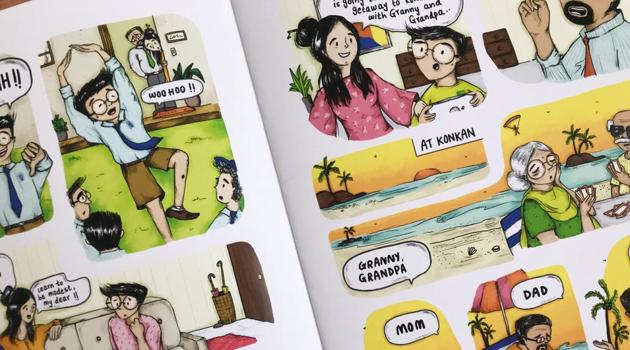 The graphic novel's plot revolves around Rihaan, a 12-year old know-it-all boy who could be your nephew, neighbour, son, or your friend's little one. It is narrated through 20 comic strips and addresses topics such as helicopter parenting, overburdening children with academics and expectations, and how to raise your child in a hyperactive digital age. The book was launched at the prestigious Pune International Literary Festival 2018.
The idea for Raising Rihaan, says Latkar, came from her start-up, The Wordsmiths Club, under which she conducts English language enhancement courses for children and workshops for young adults. "I started to jot down anecdotes that the children (in the age group of 8-14) shared. They were like revelations to me about modern-day parenting and the "first world" issues of children and their millennial parents. Before I knew it, I had a sizeable collection of such observations. I thought of turning it into a book, and that is how Raising Rihaan was conceptualised," says Latkar.
Latkar decided to compile her findings into a book a year ago, and that's when Hardikar came on board to visualise the characters. "A book like this had to be relatable yet unique in its approach. I wanted Rihaan to be a child who any reader could easily imagine as a part of their family, and yet give him a distinctive personality. There were many design decisions to make — from how many panels or pages each comic would have, to the colour palette, and style of typography," says Hardikar.
Latkar and Hardikar are now planning a sequel to Raising Rihaan. "This time, we are toying with the idea of Rihaan venturing outside India, perhaps to the US," says Hardikar.
To buy the book, visit https://imojo.in/fh8kpp