Artist power couple #Part2: Meet Pooja and GR Iranna
Updated on Mar 07, 2015 04:00 PM IST
They are dissimilar but driven – meet the non-conformist Delhi artist couple whose work speaks louder than their words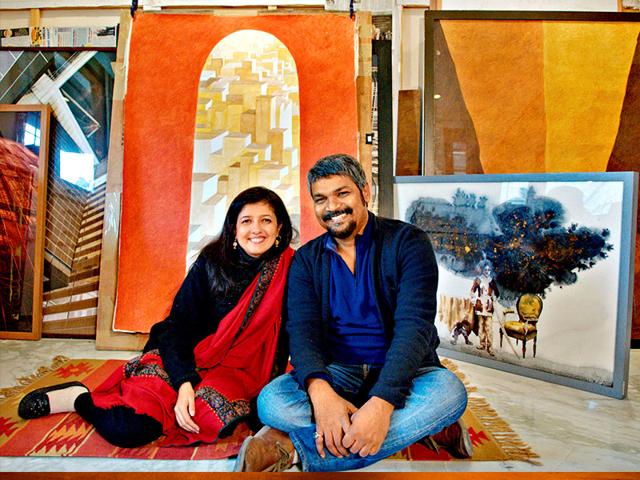 Hindustan Times |
Amisha Chowbey
Artists tend to attract other artists. Imagine having two equally powerful creative forces living under the same roof. Get to know Pooja and GR Iranna in part two of the HT Brunch four-part series on artist power couples.
An extrovert with a subtle sense of humor, painter GR Iranna's candour and honesty towards art extend to everyday life. While we are waiting for him to return from his studio for the photo shoot, we require an easel as a prop. When his wife, sculptor and installation artist Pooja Iranna, calls to ask him to get one, he says he has never used one.

Iranna works by laying out a canvas horizontally on a table, a style of working increasingly becoming popular with artists.

Born in a family of farmers in rural Karnataka, GR Iranna didn't have any artists to look up to. Still, he aspired to be an art teacher. When he came to study at Delhi's College of Art for his Master's degree in painting, the boy from Sindagi Village made the adjustments required to survive in a metropolis – he adapted to the big city's language, food and lifestyle. But if it was art that brought him to Delhi, it was love that made him stay in the Capital.

One of GR Iranna's most popular series of paintings depicts the lives of monks. Painted on tarpaulin, he breaks away from conformity. He believes a person has an innate sense of aesthetics, even before people put the label of an artist on him or her.

As a child, for instance, he used to help his grandmother make toys using clay, and helped in farming, which he describes as a "precise canvas of land that we used to decorate". This helped develop his sensibilities as an artist.

Today his works are part of prestigious collections in the National Gallery of Modern Art, New Delhi and the Singapore Art Museum. He is a favourite with art connoisseurs such as David Roberts in London and Kiran Nadar closer home.

When you first meet his wife Pooja Iranna, you go in expecting to meet an opinionated artist, since her sculptures and paintings make statements through the use of stark colours and lines. But unlike her art, Pooja the person surprises you with her gentle demeanour.

A lineage in art
Pooja's mother Shobha Broota is an eminent artist herself. Her father Rameshwar Broota hails from a generation of artists that experimented with the freedom of personal language. But her impressive legacy has never cramped Puja's individual style.

Pooja's works have symmetry; abstract images that fall in sync with each other. Before she joined the College of Art in Delhi, Pooja really aspired to be an architect. It comes as no surprise then that certain concepts of architecture still find resonance in her installations and sculptures.

Working in a diversity of media such as video, painting and installations of sculptural quality, Pooja turns everyday objects into fascinating art. In a recent series, she used staple pins to create a structure that gives a semblance of organised chaos.

On the other hand, when she paints, Pooja distorts geometric structures much like illusions, to bring about fluidity in, say, a checkered board. Gaining critical acclaim when she exhibited in cities such as New York, London, The Hague and Zurich, to name just a few, Pooja has proved to be an able ambassador of Indian art across the globe.
The working of love
When the couple started as students finding a foothold in the world of art, Pooja was trying to break free from the baggage of her lineage even as her then boyfriend was was striving to develop an expression of his own. Novices in the art fraternity, they became each other's strength as they matured into celebrated artists.

It was a classic albeit clichéd love story: they met as students at the Master's degree programme at the Delhi College of Art. Before they fell in love, Iranna and Pooja started off as friends: after all, she was one of the only three girls in both their batches.

Today, they may claim that they were too busy finding their own language as students of art and there wasn't any time for love, but Iranna does admit to working afternoons at the college studio in order to spend a few extra minutes with Pooja.

They're very different from each other in their body of work. He works with figures and she dabbles with abstracts. Precariously balancing their professional and personal lives, the Irannas keep it simple on principle, restricting their work and arguments to studio spaces. While Pooja works from home, Iranna's studio is two blocks down the road, where she seldom ventures unless invited.

Says Iranna, "In art, there is no competition, only individuality that makes each artist stand apart. We make an effort to treat each other's work as different professions, to promote healthy debates and maintain decorum." On home turf though, it's obviously Pooja who brings it all together.

When they are not busy with shows, the Iranna couple likes to host guests in their quiet step-out terrace. "I always used to say, come what may, I will never marry an artist," says Pooja. Yet, here they are, featuring among the prominent art couples in the country!

From HT Brunch, March 8
Follow us on twitter.com/HTBrunch
Connect with us on facebook.com/hindustantimesbrunch

Personalise your news feed. Follow trending topics