Great art is an investment. Here's how you should buy it?
Updated on Jan 24, 2016 01:53 PM IST
Great art is an investment – for your heart and wallet. So how should you buy it?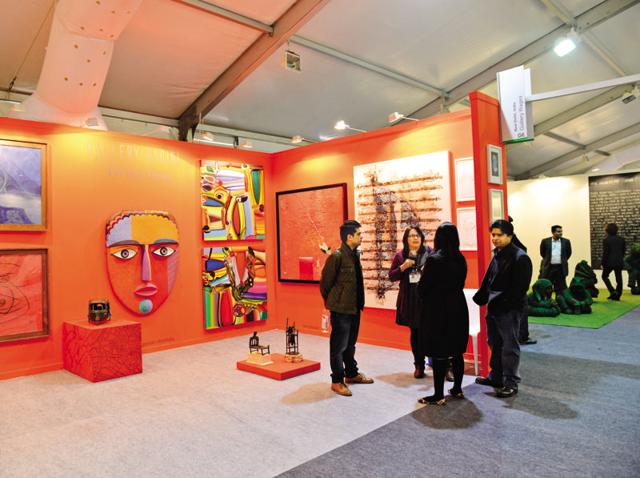 Hindustan Times |
Amisha Chowbey
When he was in his late 20s, my father bought his first painting for Rs 500, a watercolour on paper of three slender women standing next to a cluster of matkas, pastel shades of yellow dominating the entire work.
He bought it because he liked the soft colours that he thought would brighten up his hostel room. But more than 30 years later, now a well-versed collector of Indian art, my father found similarities between his first art purchase and the works of celebrated artist NS Bendre – suspicions that turned out to be true. A painting like the one he bought for Rs 500 could fetch Rs 8-10 lakh in the art market today.
Clearly, this was good luck, but my father hadn't considered a future financial windfall when he put half his monthly salary into a painting. He just bought what he loved – and did the same for the rest of his life.
"Falling in love is an essential part of buying art," says Neha Kirpal, founder and director of the India Art Fair. "Collectors are almost child-like. They follow what excites them."
But knowing what you like is only the first step.
Start at the beginning
"If someone comes to me for suggestions, I would hand her or him a pile of books!" says Parul Vadehra, director of the Vadehra Art Gallery.
A smart collector is the core of a strong art market, believes Vadehra. If you're serious about art, you have to develop an 'eye' for it, which comes by visiting museums and galleries and flipping through catalogues of exhibitions. The key is always to know more.
Investing time and thought into an artwork is more important than the money spent on it, believes Anubha Gupta, founder of Artsome, an online art awareness forum. "An art collection defines your aesthetic," says Gupta. "One or two years in the art field provided me with enough research to buy a few small canvases."
In 2013, says Kirpal, the India Art Fair conducted a statistical analysis of buyers. First-time buyers bought 40 per cent of what was sold. "The younger collectors have a strong sense of what they identify with and are not as cautious as the older generations," says Bhavna Kakar, owner of Latitude 28, a gallery that promotes contemporary Indian artists. "They are more experimental in approach."
Gupta agrees. She'd rather buy a good, big work from a younger artist than a mediocre artwork by a major in a smaller size for the same price. The signature on the piece doesn't matter.
The business of it
"As young Indians become globally mobilised, art is becoming a way of life rather than a luxury purchase," says Kirpal. She recalls four art students who together bought an artwork that each would then hang on her or his wall in turn. Galleries also accept payments in installments today, knowing that some people even float loans to buy a piece they want.
From 2006 to 2008, the art market went through a price inflation that made artists unaffordable even for regular buyers. Then there was instability as the market corrected itself. Now, according to Kirpal, it is stable. Not only does this boost affordable art, but it also sows the seeds for the coming decade in Indian art.
Want to take the plunge? "Start with prints on paper of canvases that the artist might undertake to cater to the younger audience. They come in series and are signed by the artist," says Kakar.
Also look at artists who engage with younger collectors. For instance, at last year's art fair, photographer Dayanita Singh came up with a work titled Museum of Chance, with 88 limited-edition book objects for purchase, each with a different cover attached to a wooden structure that would allow the piece to be hung on a wall or propped on a pedestal.
Or browse online gallery StoryLTD, a service of Saffronart, India's largest online auction house, which allows you to register and bid without a minimum sum for artworks in the lower to middle price brackets. Buy a print of an artwork by the late Goan illustrator Mario Miranda for Rs 300 (a good original work would cost about Rs 60,000), or a serigraph print (limited-edition silk-screen prints of original paintings) of artist SH Raza for Rs 1 lakh and up.
"Your taste in art will evolve with time. Something you like today might not be what you like five years down the line and that's perfectly normal," says Vadehra. "In the end, you need to enjoy what you buy and not be stuck with something that promised you monetary growth and failed."
Follow @HTBrunch on Twitter
From HT Brunch, January 24, 2016
Follow us on twitter.com/HTBrunch
Connect with us on facebook.com/hindustantimesbrunch
Close Story
Personalise your news feed. Follow trending topics