'I gave my books away, and it was not easy,' writes Sidharth Bhatia
The agony of parting with your favourite books isn't easy to overcome.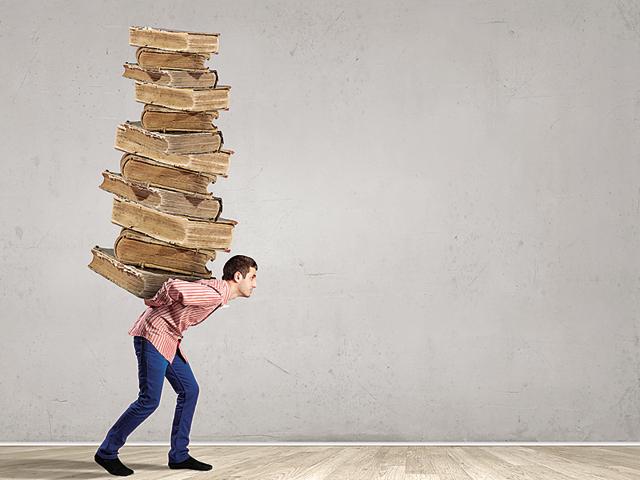 Updated on Oct 01, 2016 08:06 PM IST
The agony of parting with your favourite books isn't easy to overcome.
A few weeks ago, I gave away some books; a lot of books, about 250 of them. It was not easy - libraries, small and big, did not want them, the raddi walla offered a measly Rs 5 per kilo and friends sympathised but politely demurred. Eventually I offered them to an NGO which gratefully took them; their annual sale of books helps them raise funds for their work.
Giving away books was not something I ever thought I would do. For me, and to many of my generation, a sizable personal collection, if not a grand library, was a worthy ambition to have. Like many others, I prided myself on entering a bookshop and then exiting with my hands full of books and a wallet considerably lightened. Full bookshelves showed knowledge and erudition I thought and I was also convinced that they emitted positive vibes.
But in my typical Mumbai apartment, shelf space was a luxury and I had almost stopped buying any more books. Then one day, when my father passed away some time ago, all the books he had bought over six decades came to me. Instead of unqualified delight, I viewed this gift with mixed feelings.
The decision of which books to keep and which to part with is never an easy one. Over the years, a book collection acquires a personality; there is a story attached to each book. For me, the dilemma was now twice as big. The new books I had acquired had my father's memory attached to them. Why did he buy those books and what did they mean to him?
Going through his books, I began to 'read' him, trying to unravel his interests and slowly, discovering a small window to his times. What were people from his generation reading?
A lot of books on English literature, which was understandable since other global writing didn't make it to India those days; a fairly impressing collection of poetry; several books by and about Nehru – clearly demonstrating those heady days when the first prime minister was the country's great hero; vast numbers of books published in the Soviet Union and sold in India (at very cheap prices) through the People's Publishing House outlets in Bombay. There were surprisingly few bestsellers—so was my father averse to popular writing and only believed in high-culture? It was almost as if I had caught a glimpse into a part of him that was hidden from everyone else.
Most of these books would not be available today and even at a casual glance, they looked old fashioned – the binding, the cover design, the font – things that often excite bibliophiles. That by itself should have been sufficient motivation to keep them lovingly in a glass-encased bookshelf.
But even as I opened the cartons and looked at each book with joy and wonder, I knew I had a problem on my hands. I would have to find space to accommodate them. Books have found themselves a perch not just in bookshelves but also on every available table, chair, on top of cupboards and on the floor. I can swear – on a stack of books – that I have not bought any book recently, but still the mountain grows.
Unmanageable numbers of books can also lead to domestic strife, especially if one party has an unreasonable aversion to parting with books that he has no intention of reading again. Regular culling is always a good idea, but I am a hoarder and have not even switched on the Kindle so kindly given to me as a gift. I was feeling the brunt of changing times. I used to be stingy about loaning my books; now I could not give them away.
I felt a pang when the books finally were gone. But I was fretful – would the new owners treat them like they deserved to be treated?
The "problem" still hasn't been fully solved. If the criteria of "are these books of any relevance to us" is applied, even more may have to go. "Books we have several editions of" are likely to face the axe too. And of course there is a complete freeze on buying any more books, no matter how important, readable or beautiful-looking they are. For now, the shelves are looking glorious, the colourful spines of much-thumbed and well-loved books a sight to behold. I fear though it is a losing battle.
Sidharth Bhatia is a senior journalist and writer based in Mumbai and the Founding Editor of The Wire
From HT Brunch, October 2, 2016
Follow us on twitter.com/HTBrunch
Connect with us on facebook.com/hindustantimesbrunch
Close Story